[ 8 Jan ]
Saturday
Big thanks to
Advertlets
for the opportunity to play Laser Tag in a bigg group of Nearly
40people/bloggers
for my first time! :D
Arrived at Mid Valley a tad late but just in time before the reg close =P (well, its another event that supposedly starts at 11AM).
andwe'rentthelastones.
AND YES! i wore a
3
½ inch heels platform to play laser tag. Wearing sports shoes/flats to a mall is not my thing. i dont mean to sound like a bitch

but im just not used to it as ill feel weird. Luls!
FYI; i can run pretty well in heels and platforms!!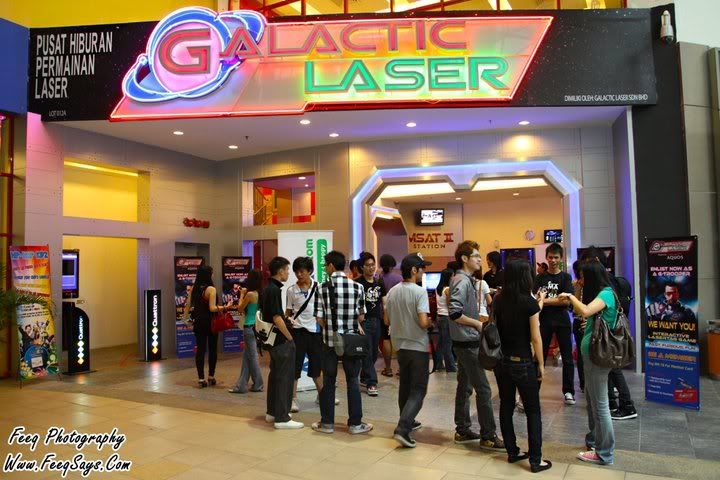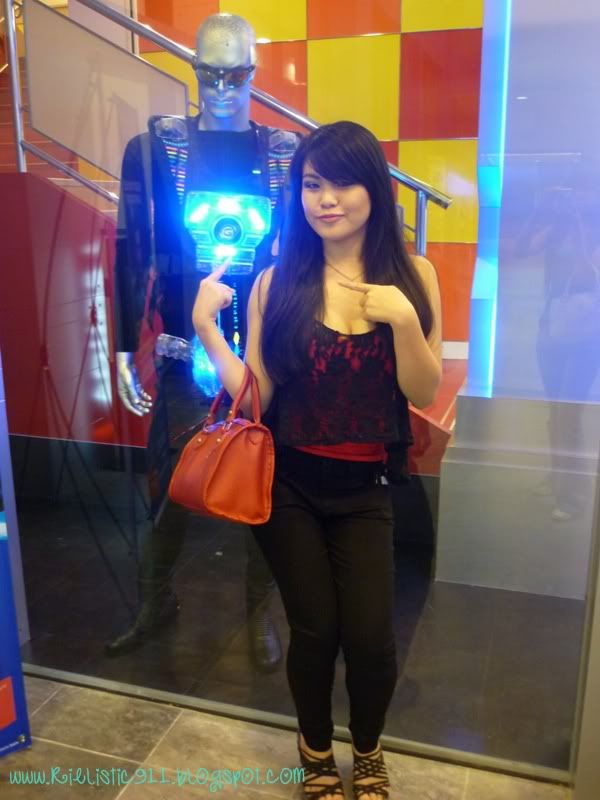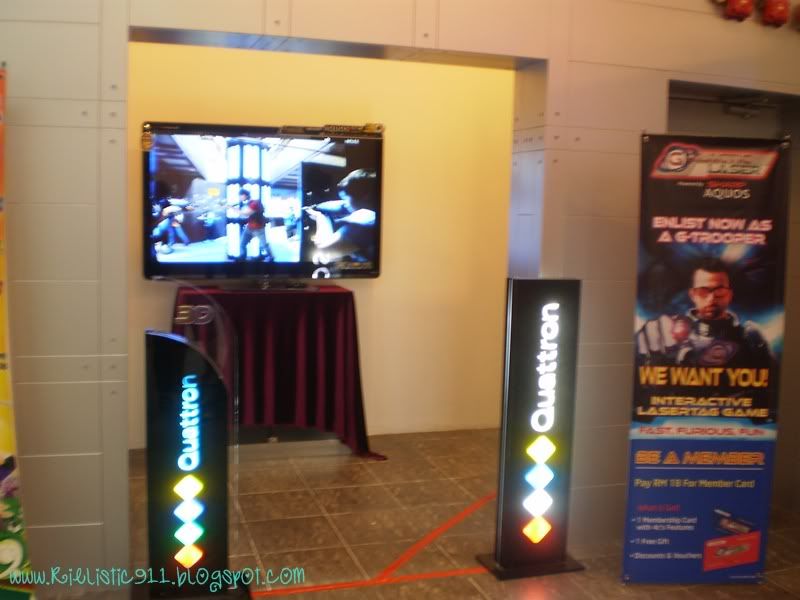 SUPAR DUPAR COOL WALKWAY!
dont you just feel like youre in space.

Place to chill, have parties, whatever you can think off. its a kewl place to hang w a bunch of friends for a different experience and atmosphere.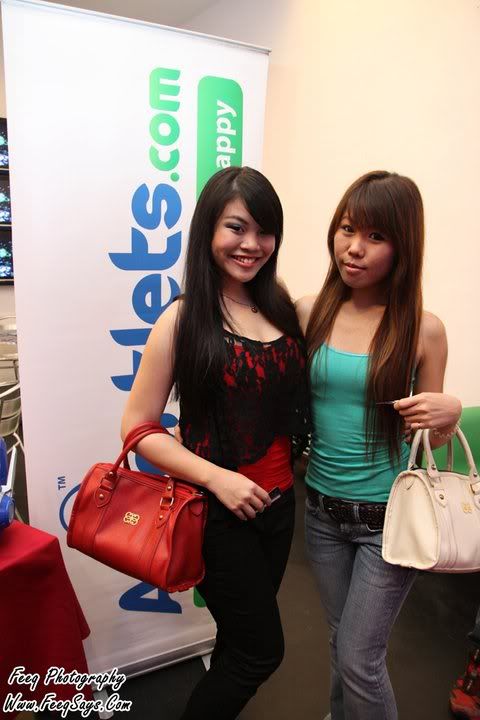 TAC Sisters for Advertlets ;)


our card thingie that needs to be scanned before getting started in the Battlefield. Hence the results at the end of the game.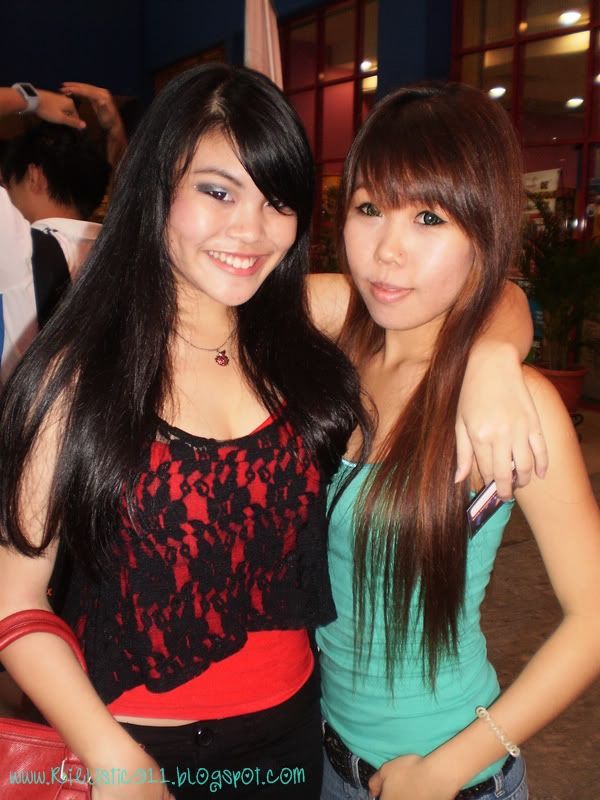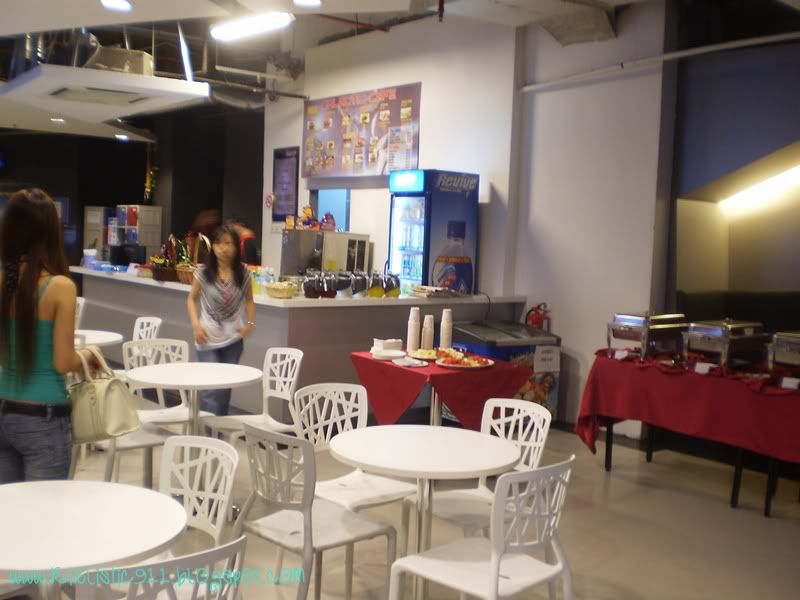 Cafe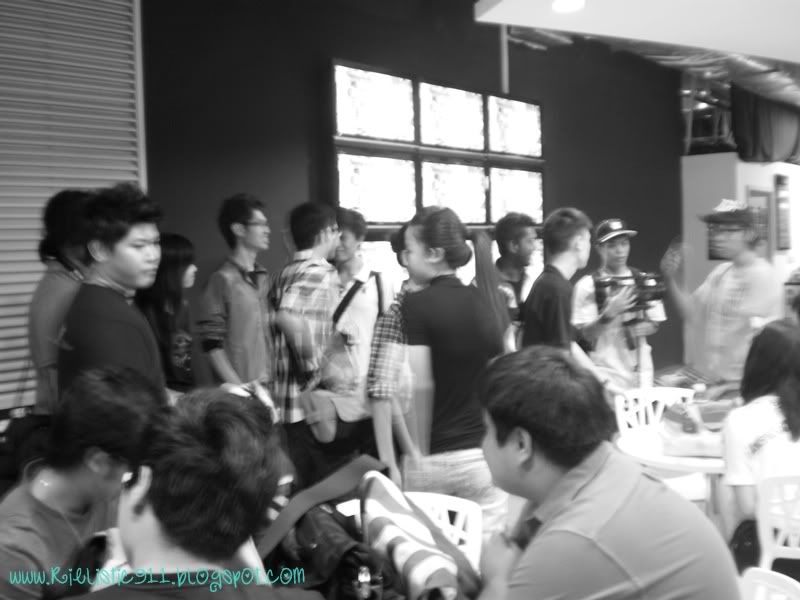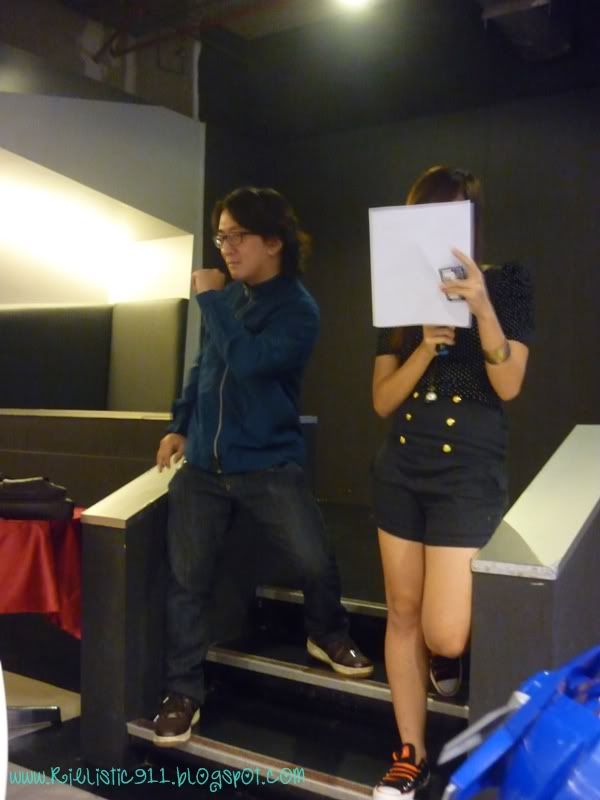 Josh the Poser! :P
meanwhile, Melanie was making an announcement.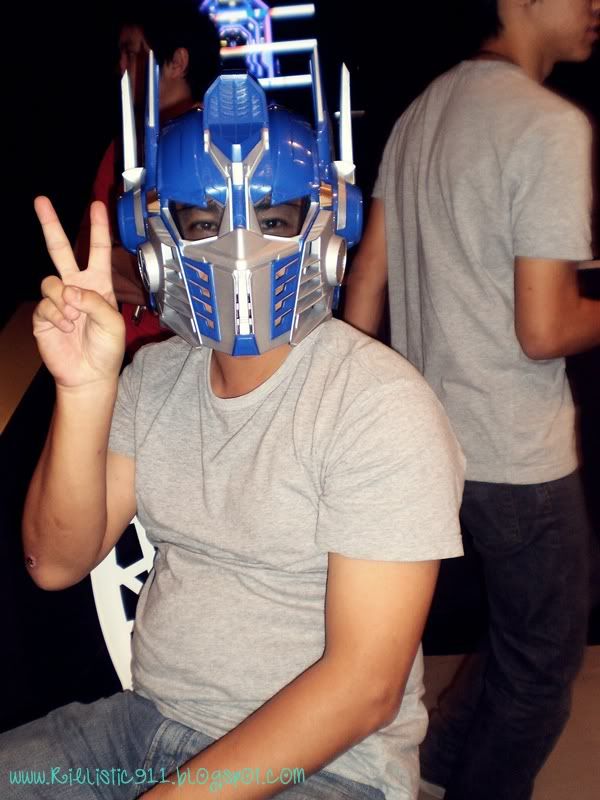 VERY COOL TRANSFORMER'S HEADWEAR.
not only it looks cool but its SOUNDS cool too! like Litterally! *try speaking while wearing the mask* ;)
Feeqsays.com
Yes, the same KPop vid on the 9LCD screens.
mostly SNSD though.


def trying to attract guys ;)
Briefing Room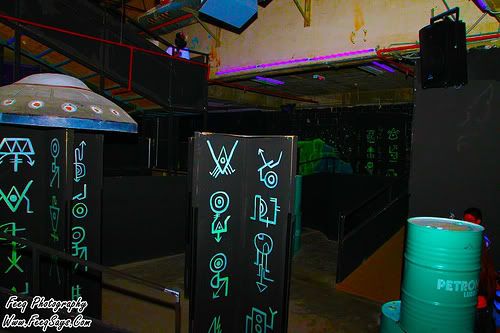 Rebecca in Action!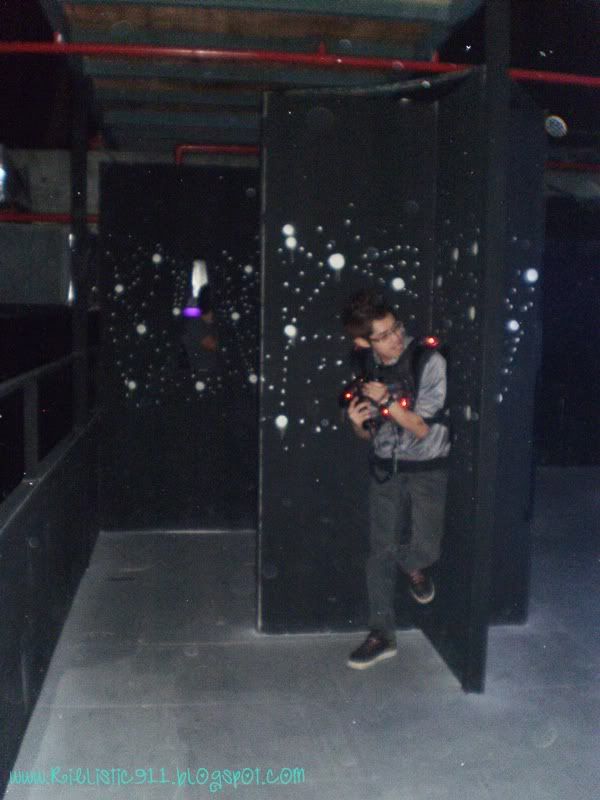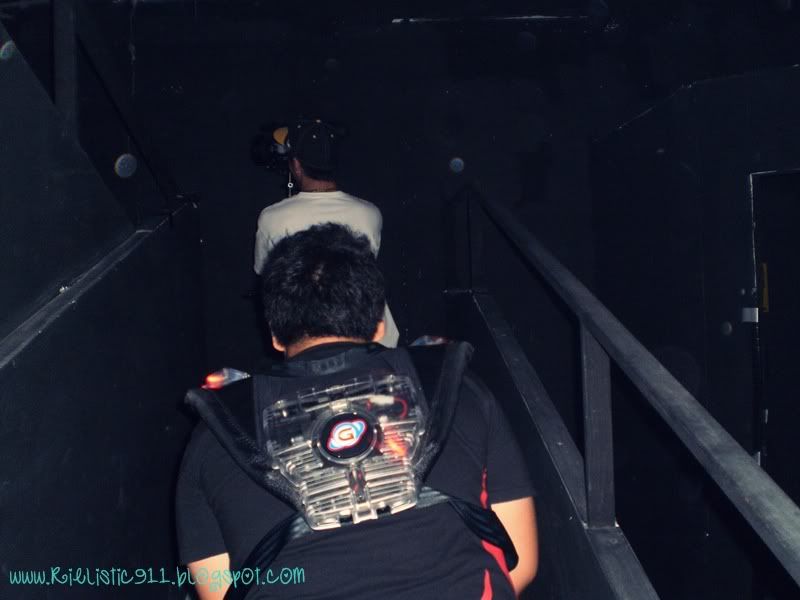 sneaking up behind. heeee!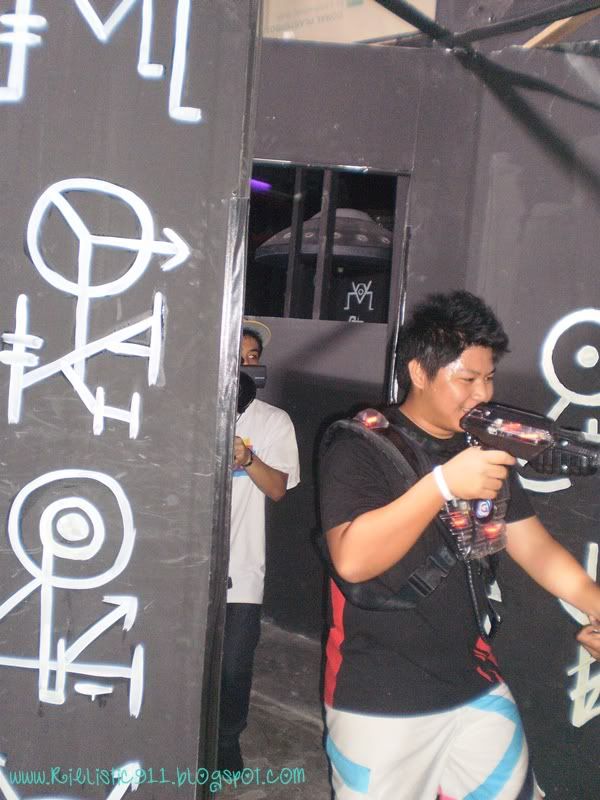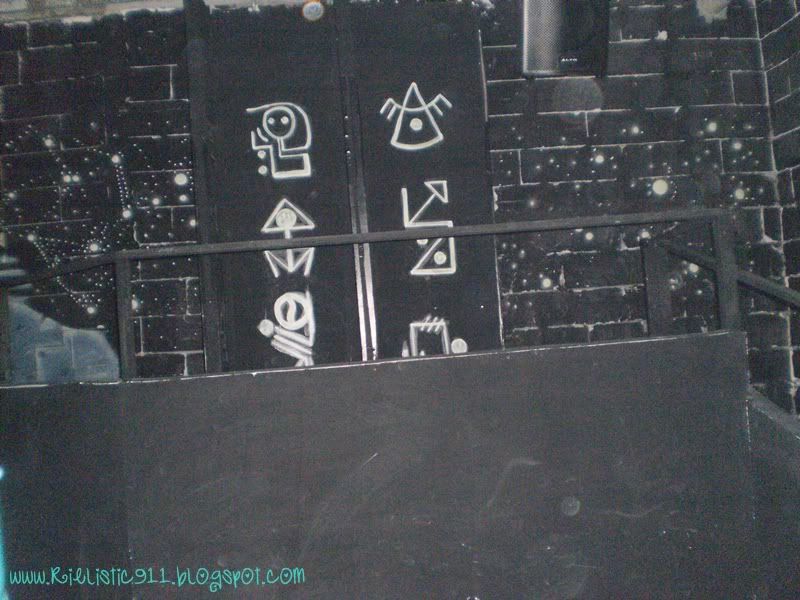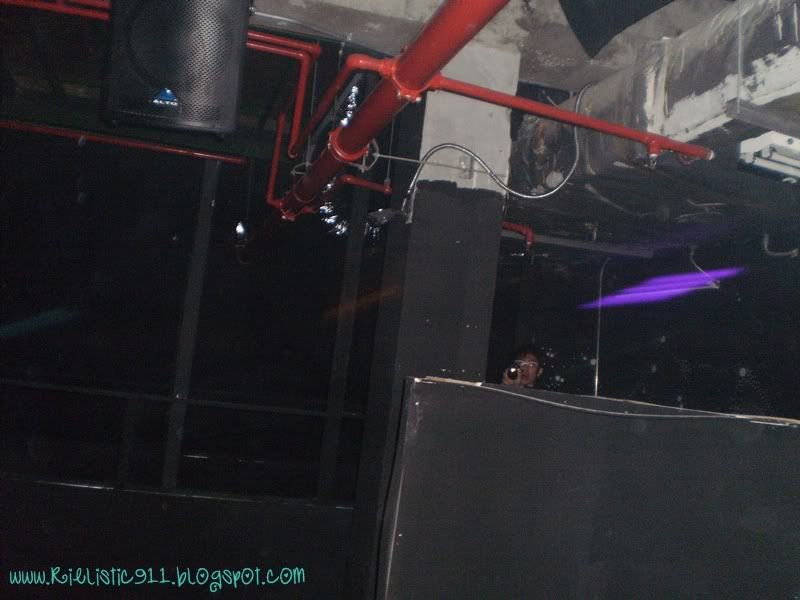 i Bet that fella thought i was in the game and was so ready to laser shoot me :P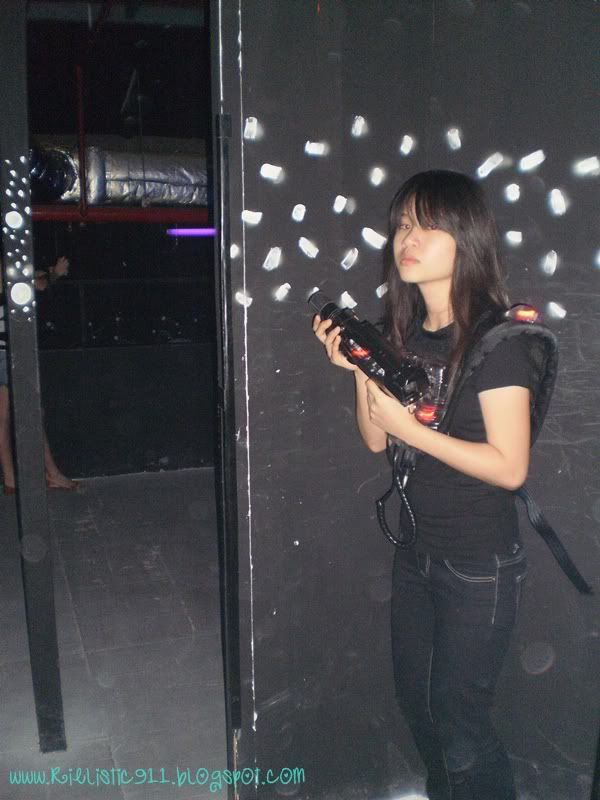 2 Hands on the Gun! thats how you Fire!
photogs everywhere too!
Check out this mini video i took during another team's game!
Updated

!! Video by Point8Cam.com for

Advertlets

!
Superrr cool eh? ;)



and the...

RESULTS!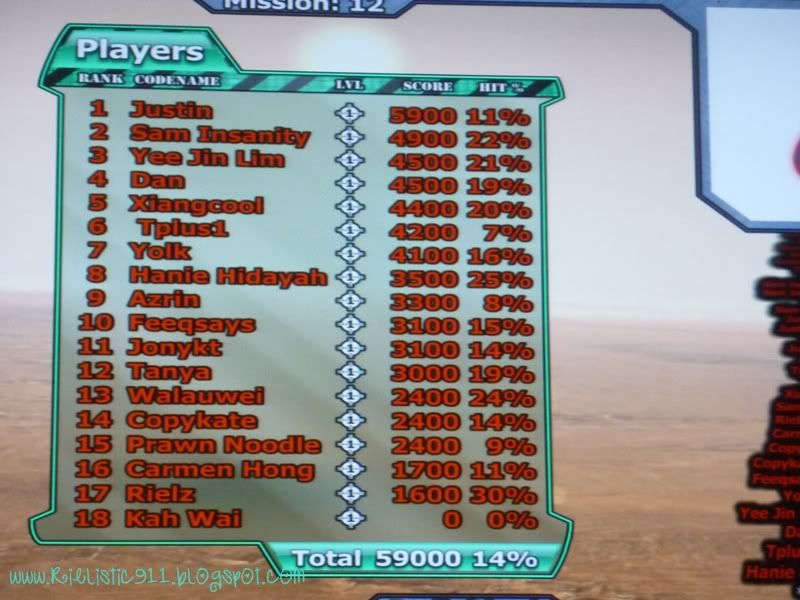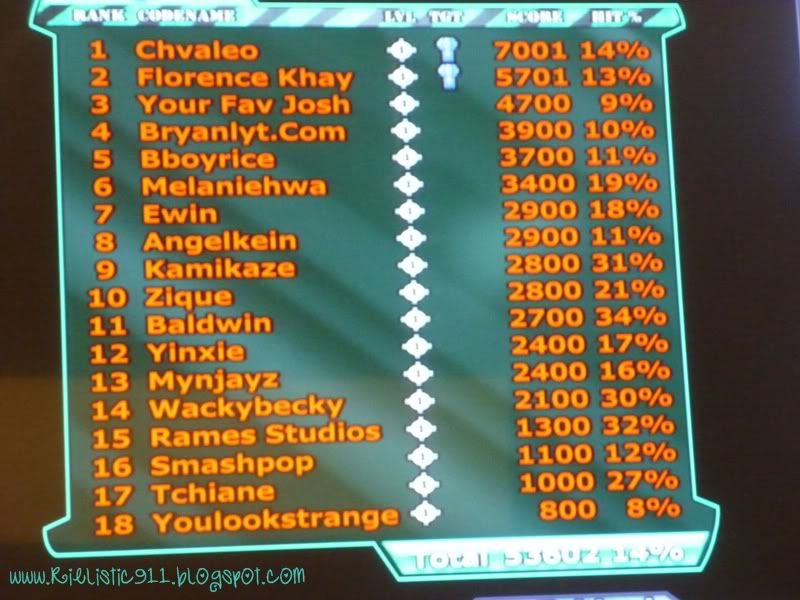 The first game; Divided into 2 groups of 18.
Game; FREE FOR ALL
(inotherwords; Shoot anyone you see!)

There you go- 17th placing outtve 18. How pathetic =/
After the 2rounds of Free For All. We split into 4groups. and Battled against each other!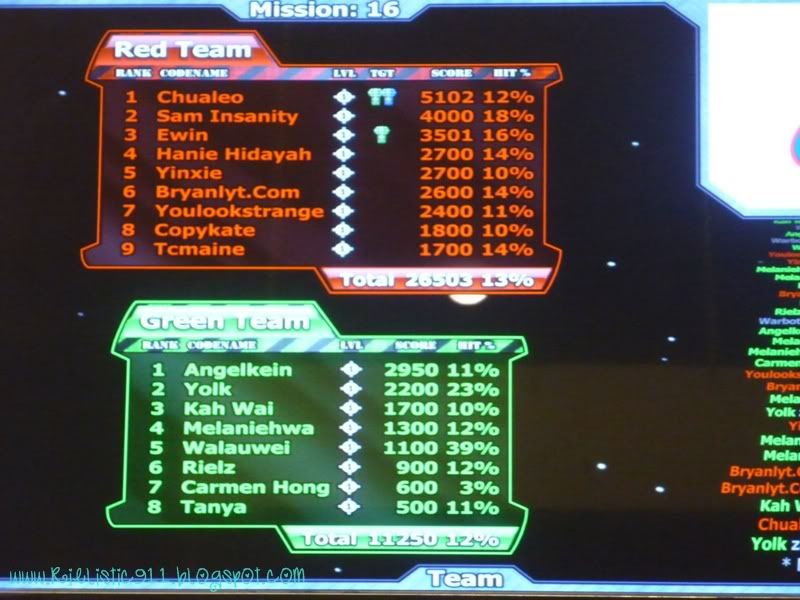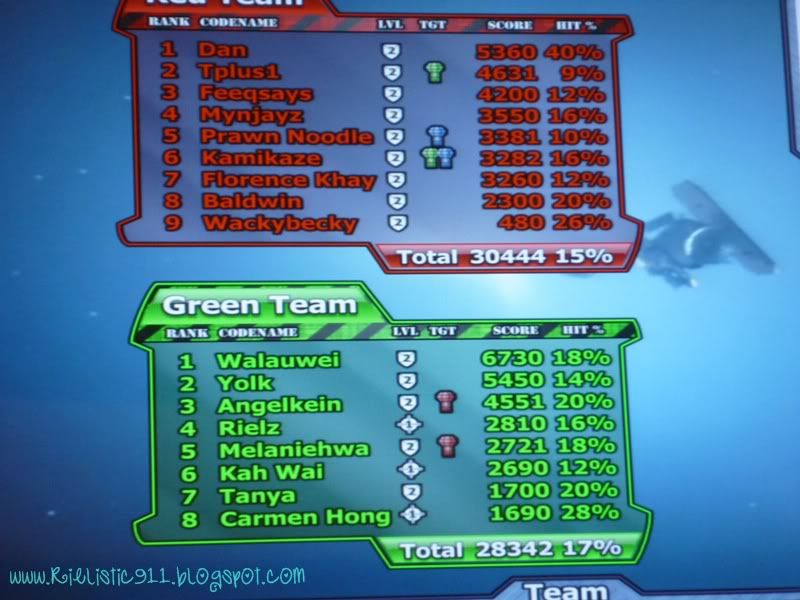 i think im missing a few score board pictures. Eeeeek!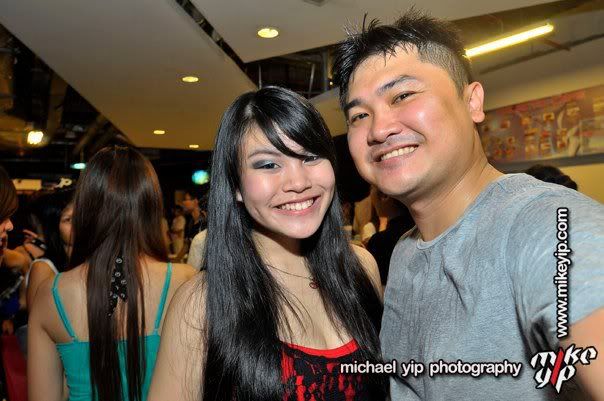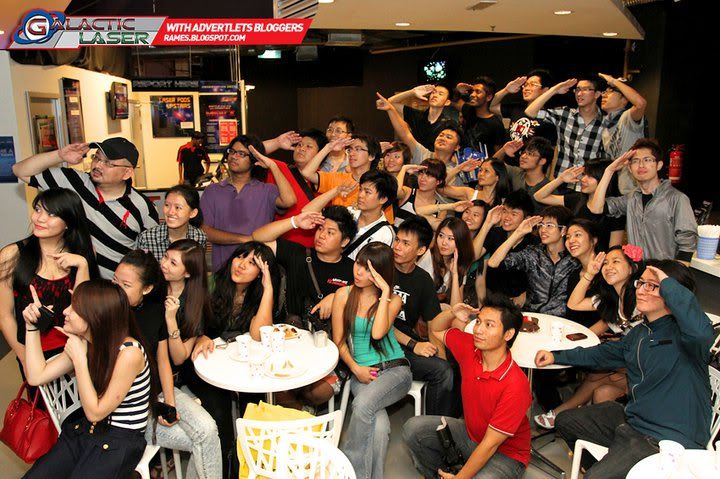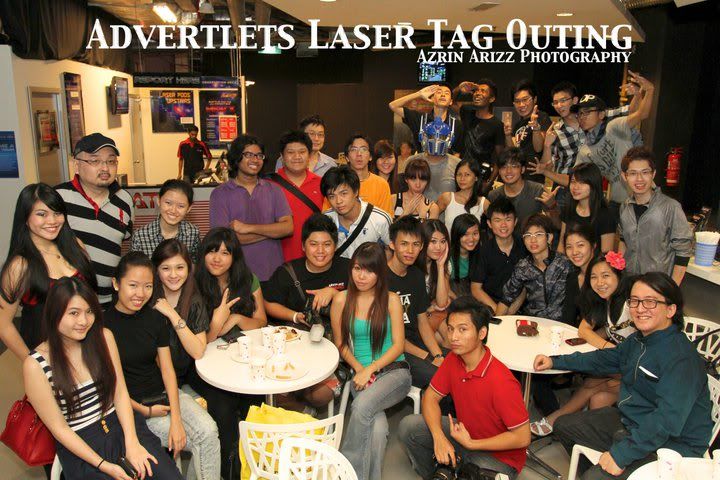 Meet the Teams. . .
one of these 4 teams won!! its pretty obvious. nvm,illgiveyouahint
ALL GUYS team!
*hint hint*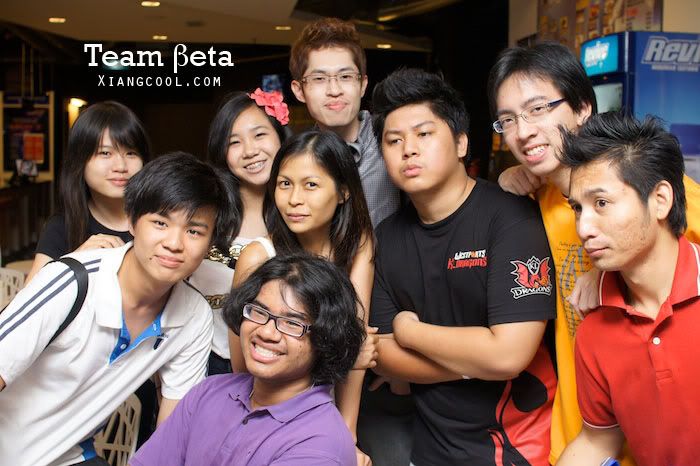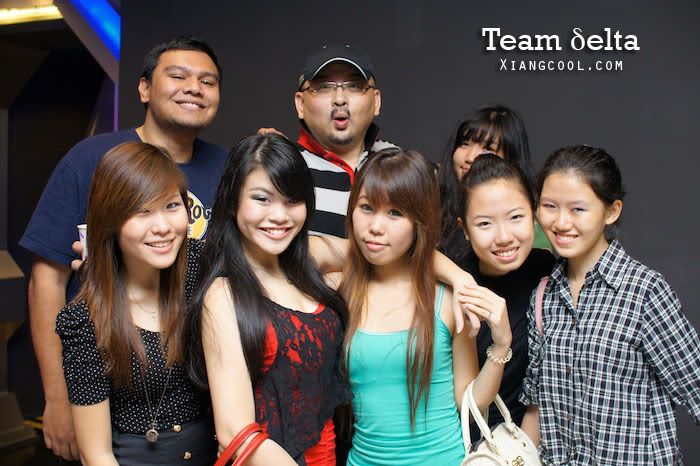 the Almost all Girls team x)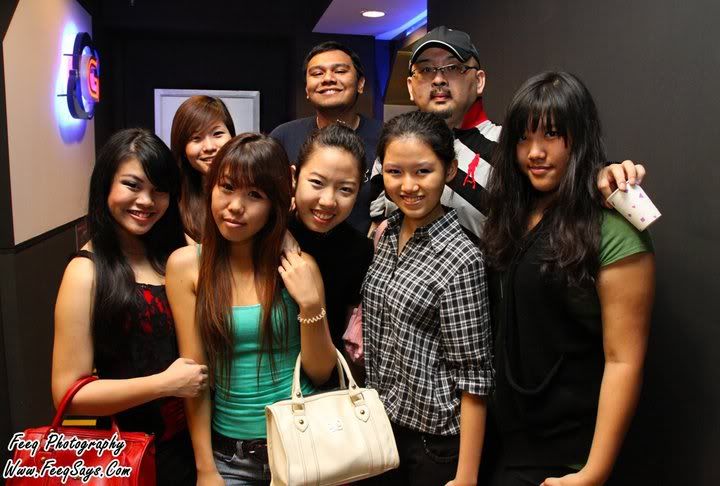 Josh's fav angle. Luls :)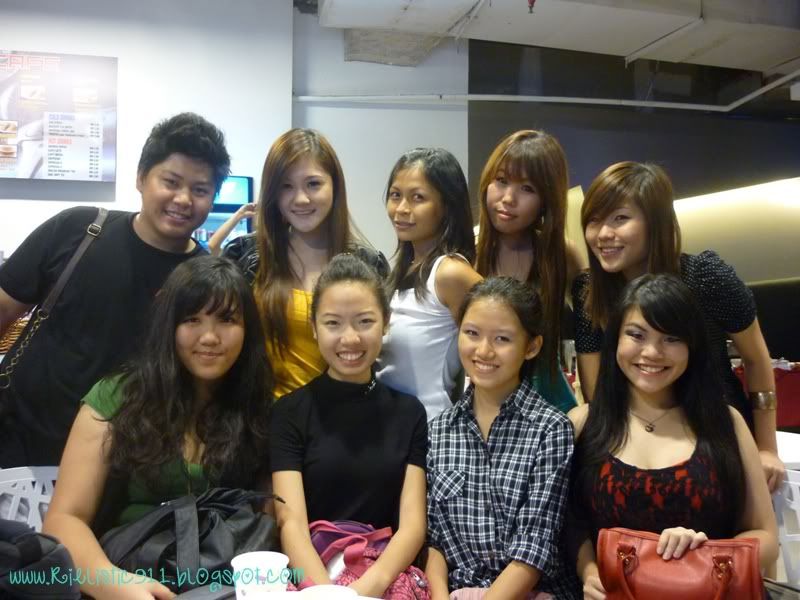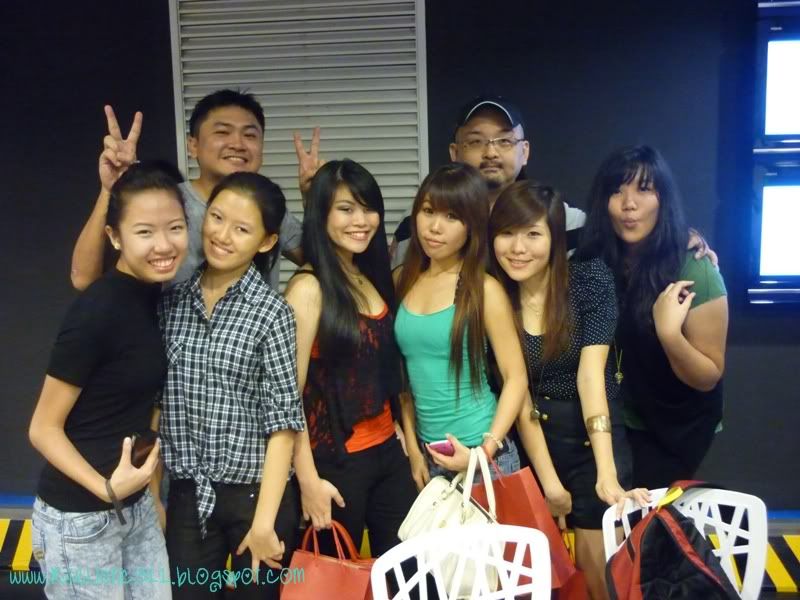 It was loads of fun!! Def something very different! Okay, TBH, choice of wearing platforms were i did fell down/slip- ONCE! up the slope thingie as i was running really fast trying to duck etc etc. Other than my toes hurt a lil from running in platforms- it was all good! i'd wear them to play laser tag again! heee!
Actually, halfway during the whole laser tag thingie and waiting for other team. my Mood changed to a pmsing bitch. i swear i dint know where did that came from- Maybe i was really pmsing. Haha! yadayadayada~
dont really wanna get into details. but i mean ofcourse something triggered it right ;)
After much cam whoring, half of us went for some bowling at Cosmic Bowl.
After only probably 30mins of bowling. I had to go for my movie with the cousins; Bryan & Luke.
iwasstillapmsingbitch
. Waited quite awhile for Luke. Worst is Bryan was MIA- No Calls No Text No Nothing. Whatodo. off to catch Seasons of the Witch with Luke lorh.
Bryan still owes me 12buck.
Missed 20mins of the movie cause of them cousins. hmph!
Season of the Witch Movie Review;
[No Spoilers]
♥
♥/5
Pretty Thrilling. Disgusting too you might say, but it was bare-able.
It keeps you wondering who is telling a lie and the truth.
Ending was pretty good. Not what i'd expected usualexpectaions but it made the story more real too.
Actually, im not really into movies that consist of the devil/demon and 'chants' though. Kindda reminds me of exorcism thought which i dont fancy as im a Christian :)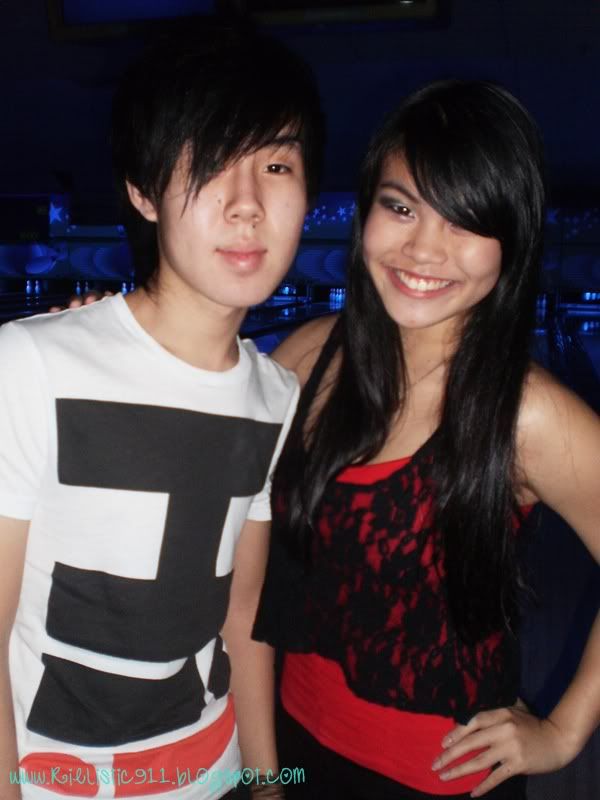 Luke boi!

After an hour of the movie (as i missed almost 30mins of it) we came back to Cosmic Bowl. Sis and them were still playing bowling as they had 14 ppl and 7 in one lane. Thus, taking very long for a game to be over. Luls!



Btw, my pmsing bitch mood went away during the movie!

Movie ALWAYS makes me feel better! no matter what!

<3



Mike and I w our bowling balls! heh!
*excuse my un-ready face*
After that, Headed to McDs to chill a lil bit and to also have The Talk bout my Decision.
Appreciate you guys for helping me make my decisions and giving me more info and understanding :) it did got me More confused but i understood more. heee!
Headed home around 8PM

ifimnotmistken

for dinner.


Another longgg Tiring day indeed!
Reached home and Slept shortly after;
but the
night did not end so soon- no it dint ;)
Stay tuned on where did i head out that night.
♥s Mermaid;