[18 Feb ]
Friday
What a friday!
John Vesely from
Secondhand Serenade
followed me
@BabyRielz
in Twitter. Finally- after a month! Luls!
AND! i got an email that made me super duper happpy!
Im gonna be playing LASER TAG with The Wanted !
i was soooo excited and happy, I jumped and hugged mum so tight she couldnt breathe =P
BIG BIG BIG Thanks to
Advertlets
!
__________________________________________________________________________
[ 20 Feb ]
Sunday
The big Day is here!! I've been struggling and going into measures to borrow a camera with good recording feature. As you know, im using a pathetic digital cam with a pretty poor recording audio quality.
Praying and hoping for a new one (G12).
Sadly unfortunate, wasnt able to borrow one.
My weekend was sucky to know that I dint have a good recording camera as recording vids during showcases means alot to me!
Its like bringing it back to live when i watch it later on.
Had the worst morning ever, some drama with Dad. I almost couldnt make to play Laser Tag with The Wanted. But Thankgod everything went well after that. I had to swallow my pride alright.
So if you're wondering who is The Wanted?! They are a new, up and coming Bristish-Irish Boyband from UK.
The group consist of
Max George(23), Siva Kaneswaran(23),
Tom Parker(23),
Jay McGuiness(21) & Nathan Sykes(18).
They all live closely under one roof back at London.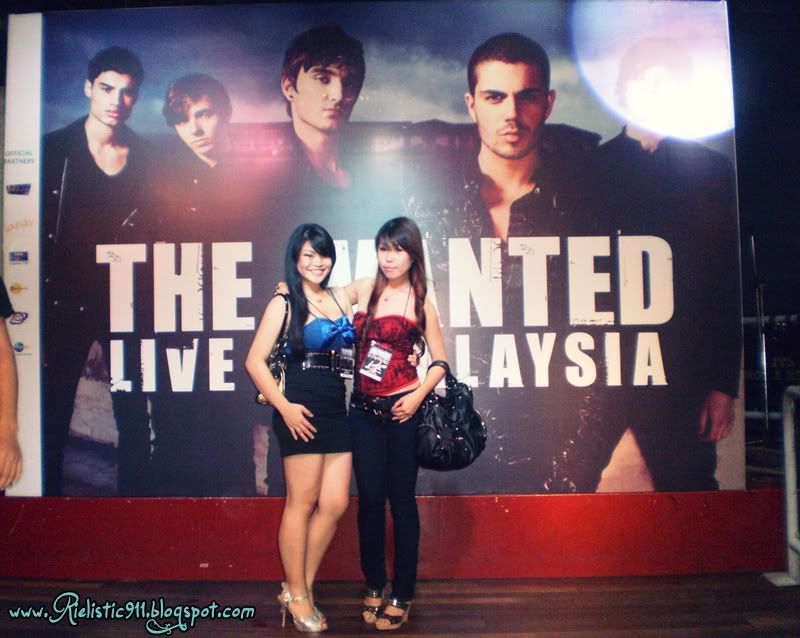 Team at Galactic Laser Tag explaining how to play the game.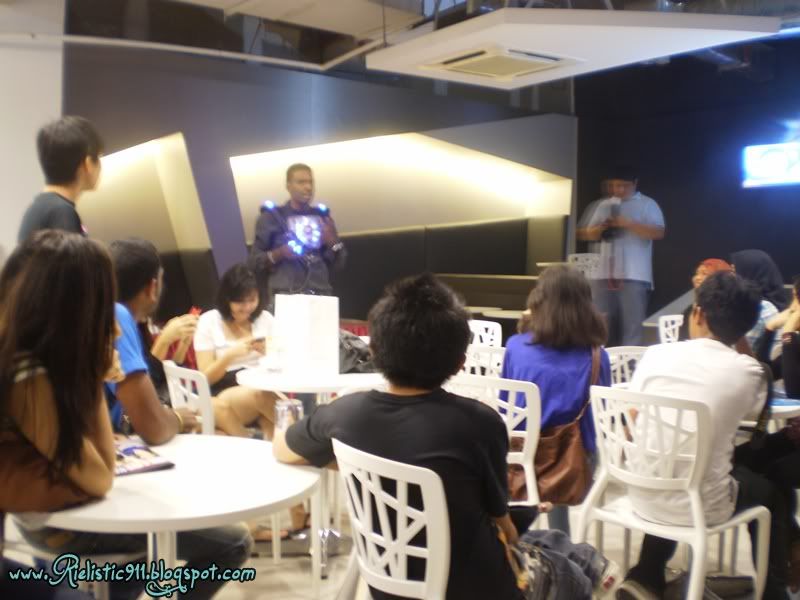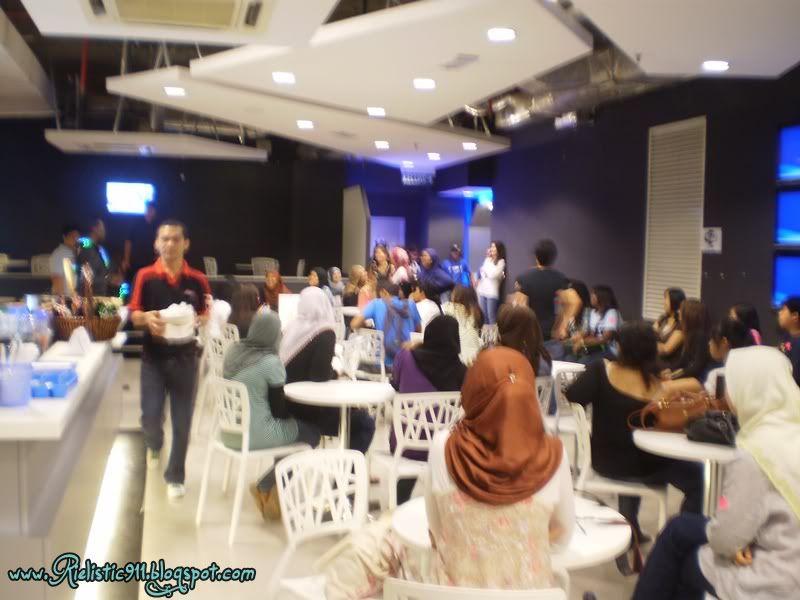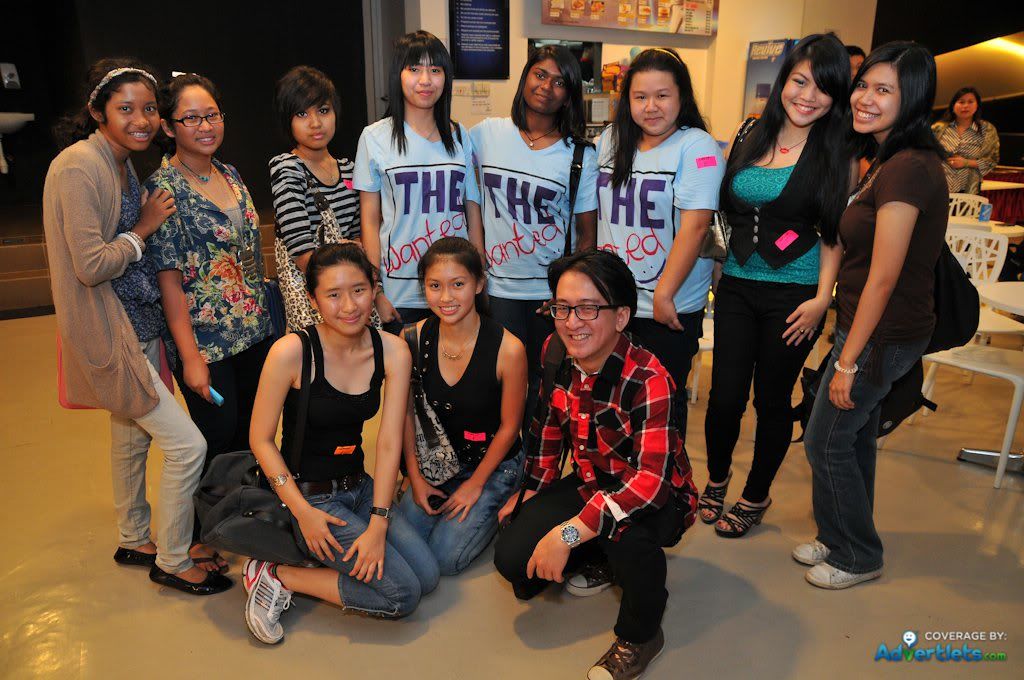 Team Advertlets.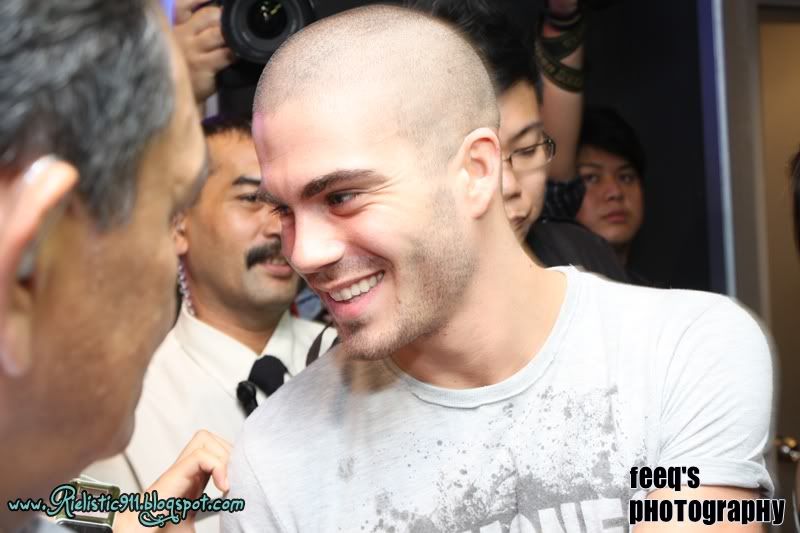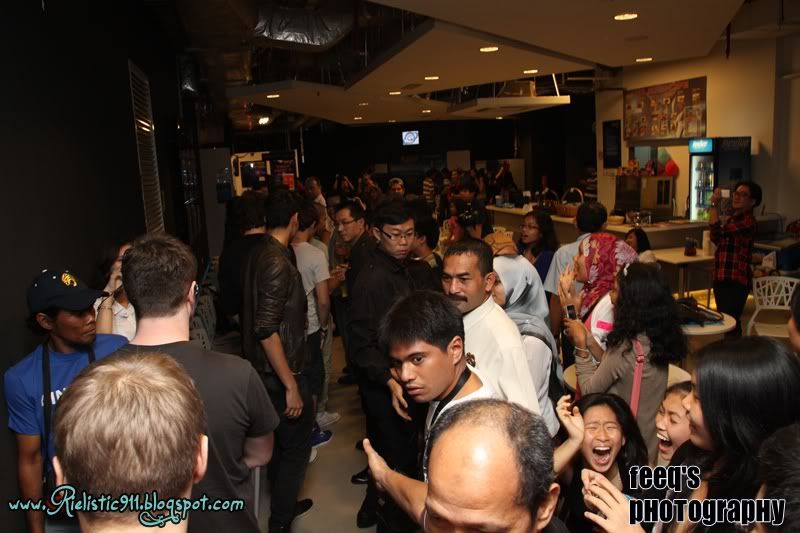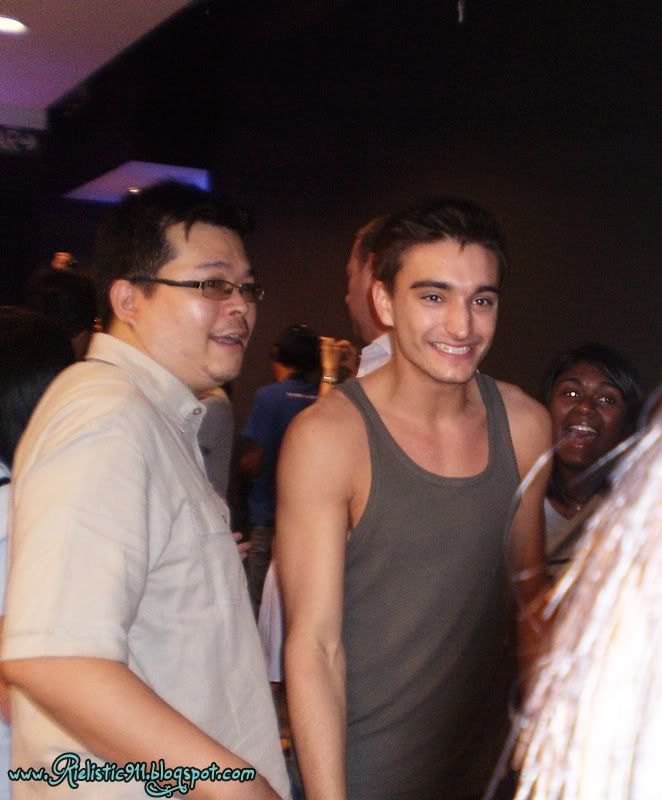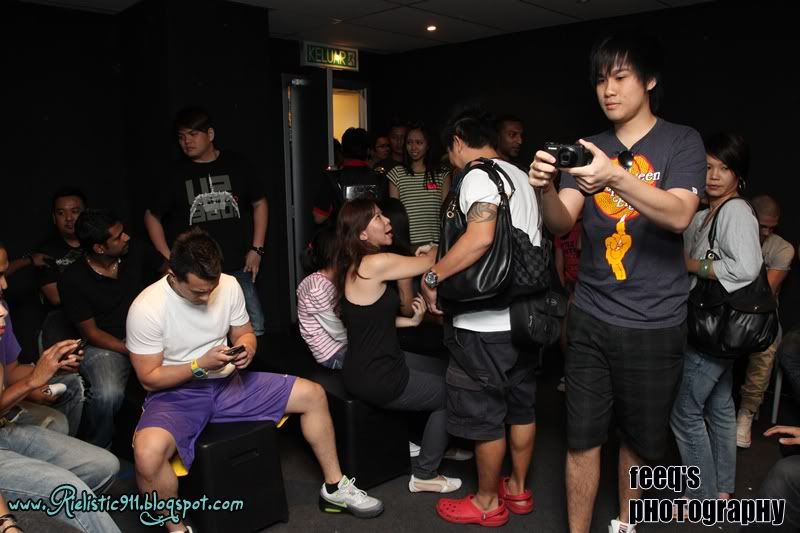 The whole of Hitz team was also there for some fun!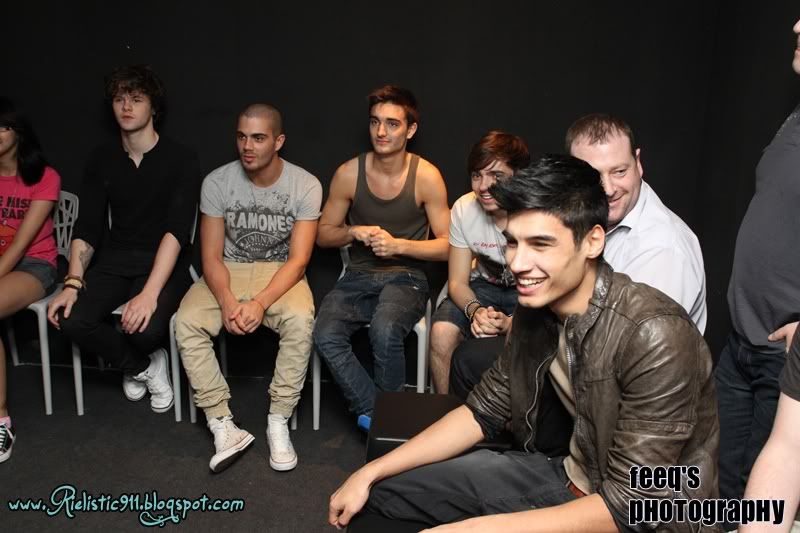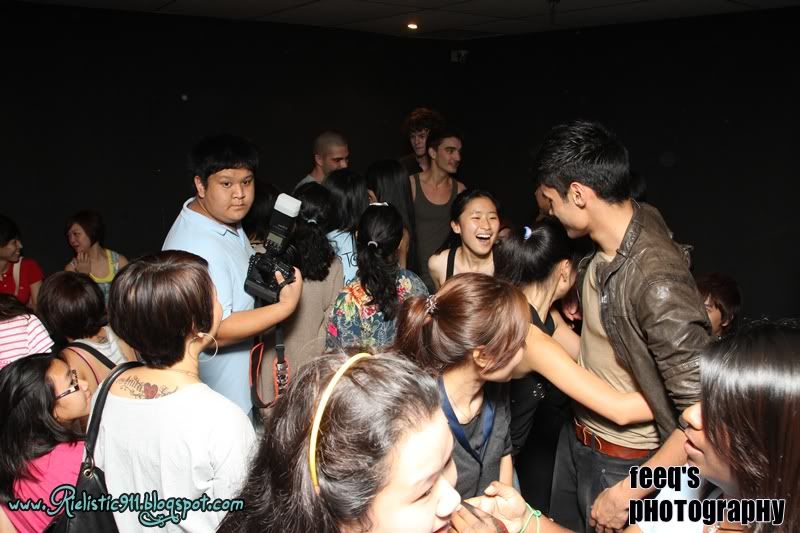 The Wanted boys were such
sweethearts
! I got a
hugg and kiss
on-the-cheek from each one of them!
♥
♥
♥


They were very easy to talk to and they were all very friendly! Made a lil conversation with Jay as he sat just opposite me.

We knew that laser tag was originally from the US and UK, but The Wanted boys have never played it before and this is their First Time! Laser Tag virgins ;)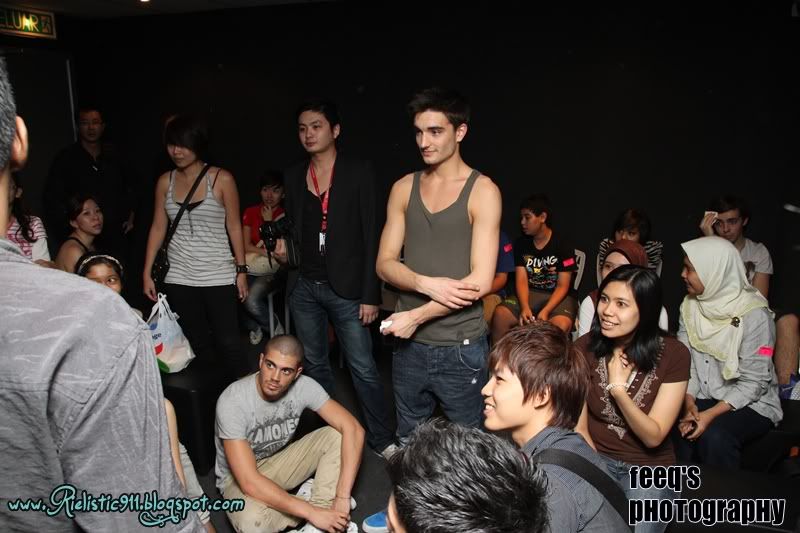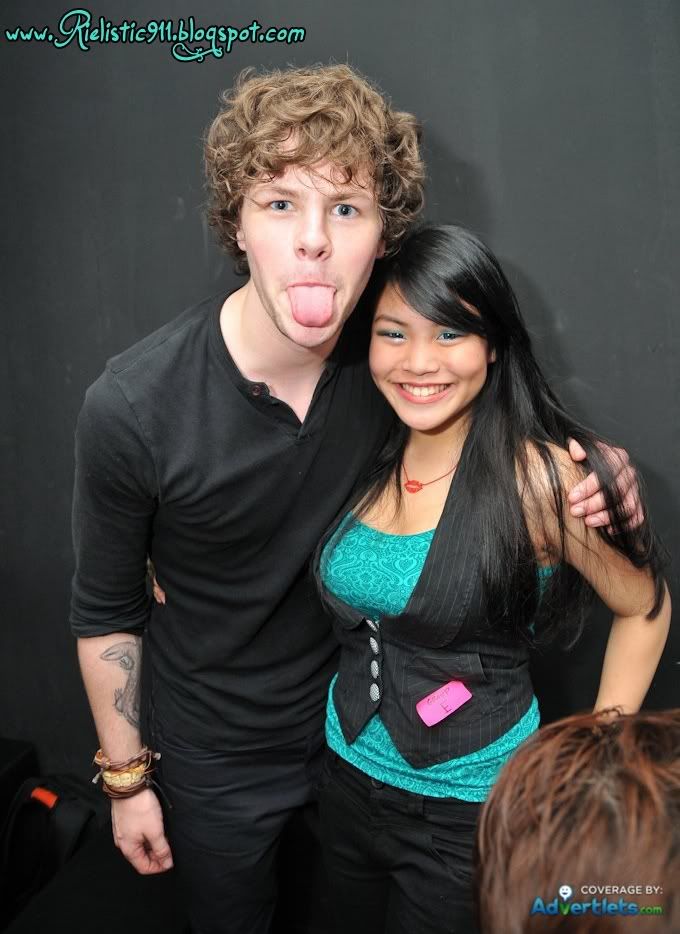 w Jay McGuiness.

I usually dont have the hots for curly-haired dudes but Jay is an exception. The way he sings and his voice AND his cute lil british accent! *melts*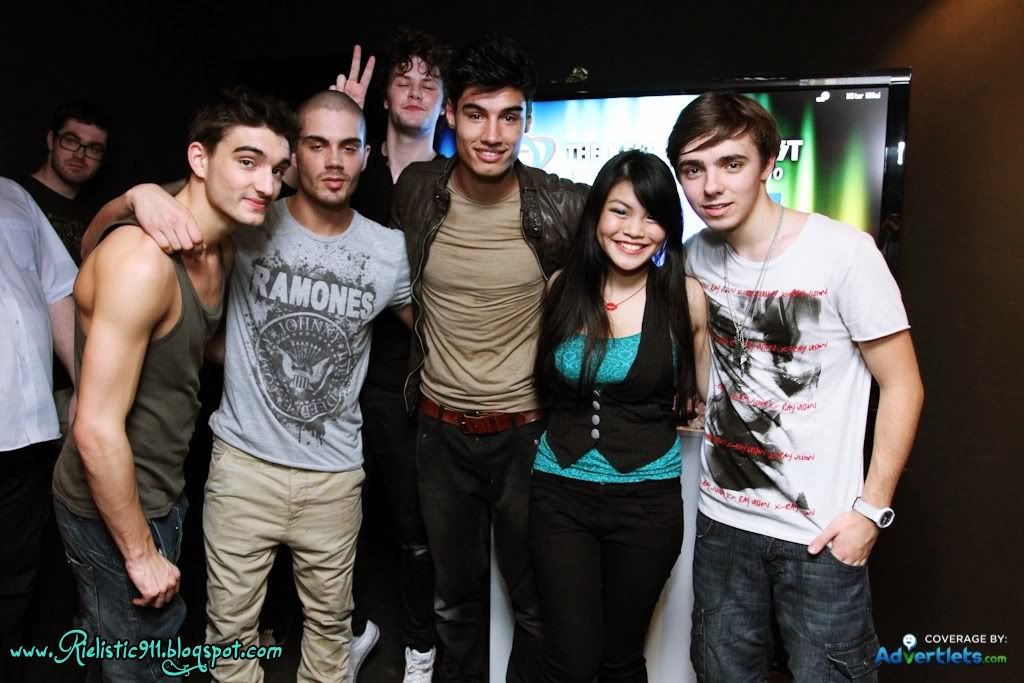 [From left]; Tom, Max, Jay(behind), Siva, Me & Nathan.
Thanks to Azrin for this pretty rare group photo!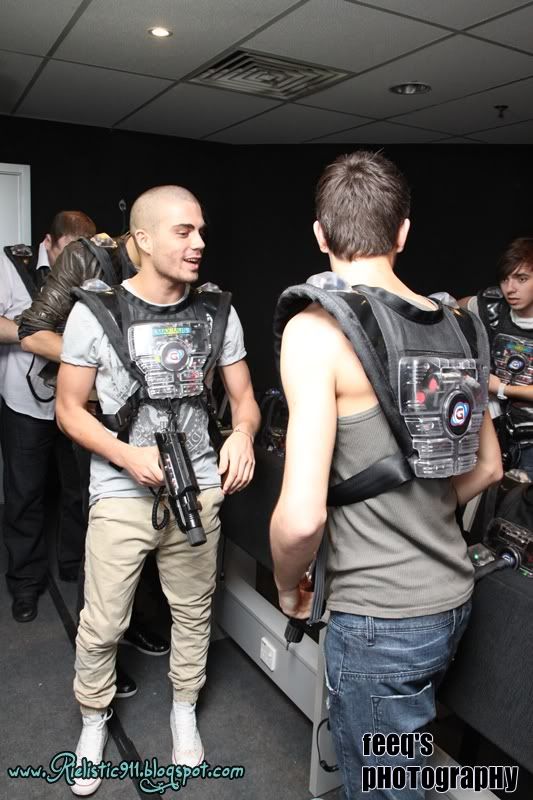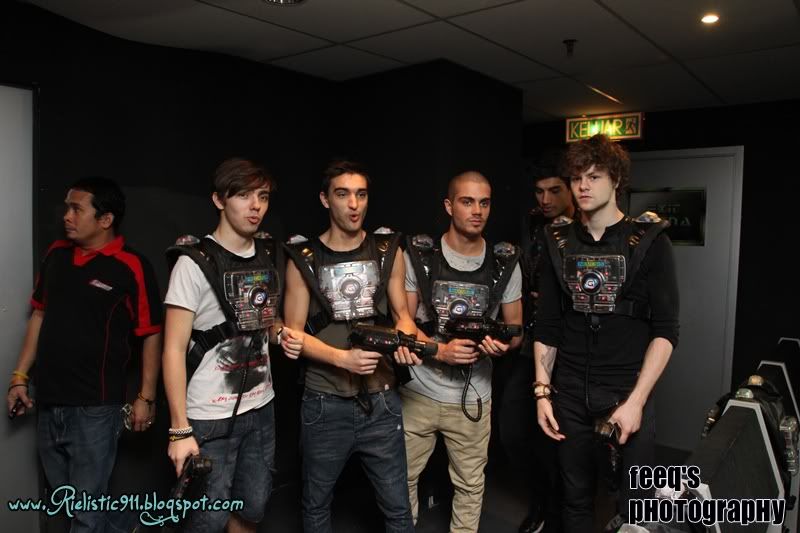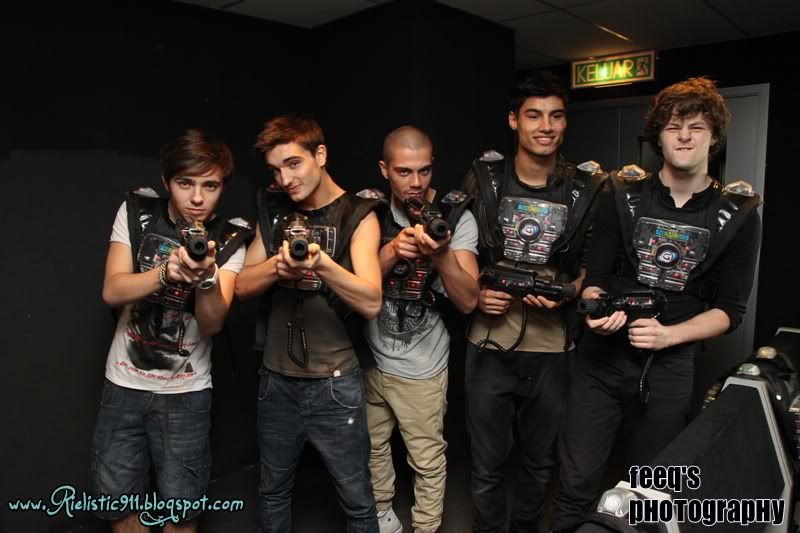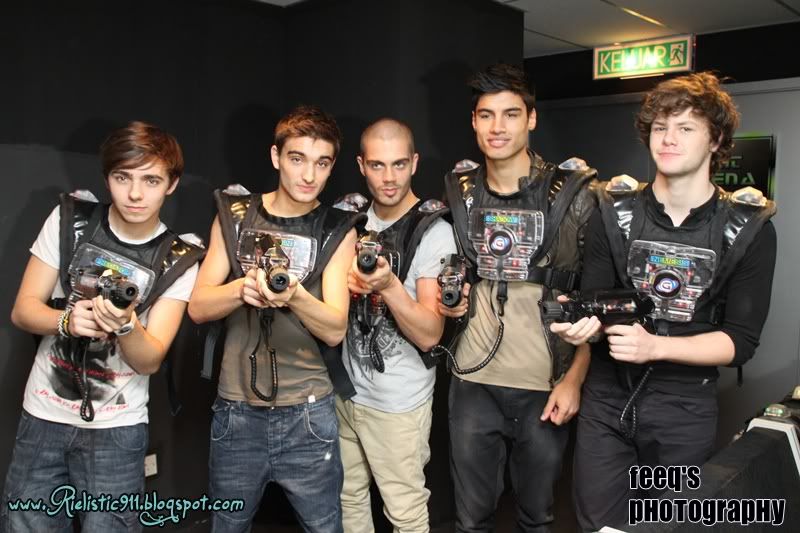 Hitz team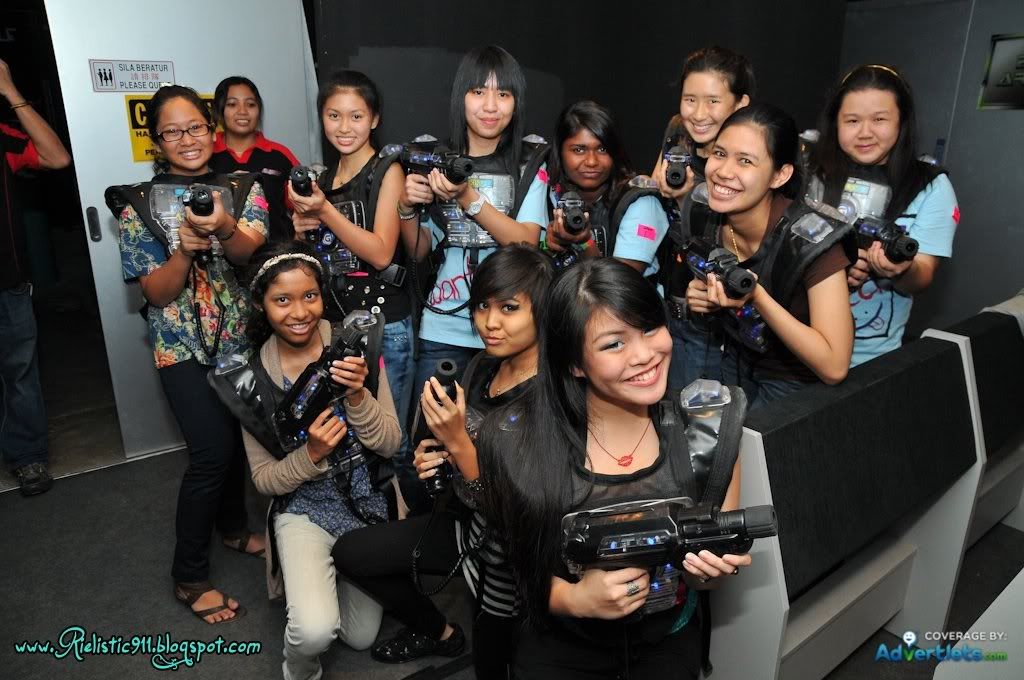 Team Advertlets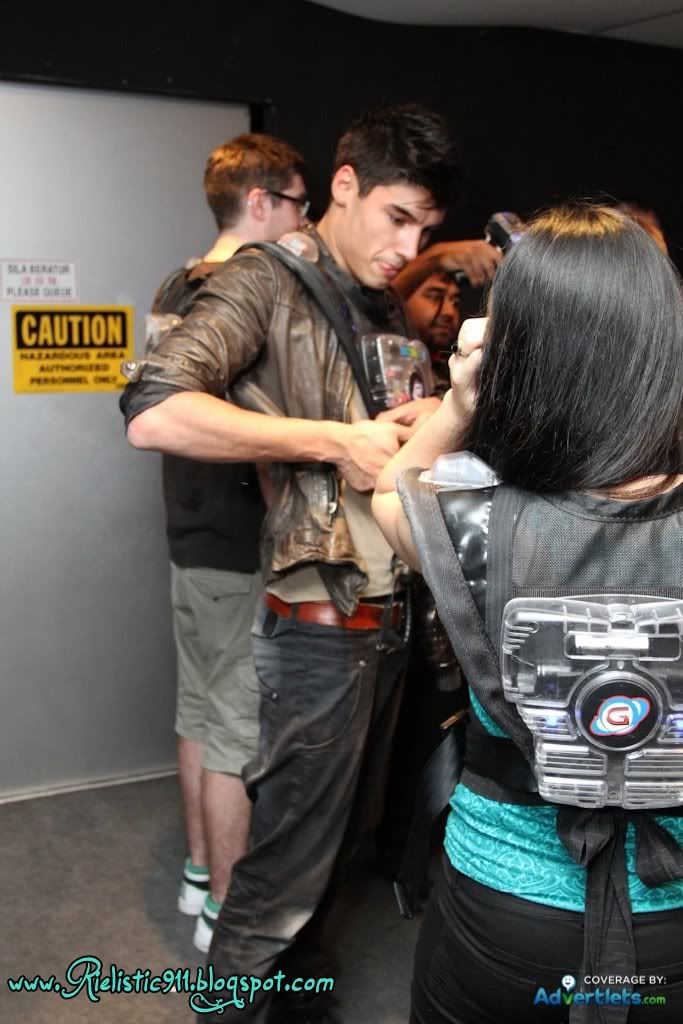 Right before we went in the battlefield, I was pretty un-ready for the camera but oh wells, Siva looks gorgeous as ever :)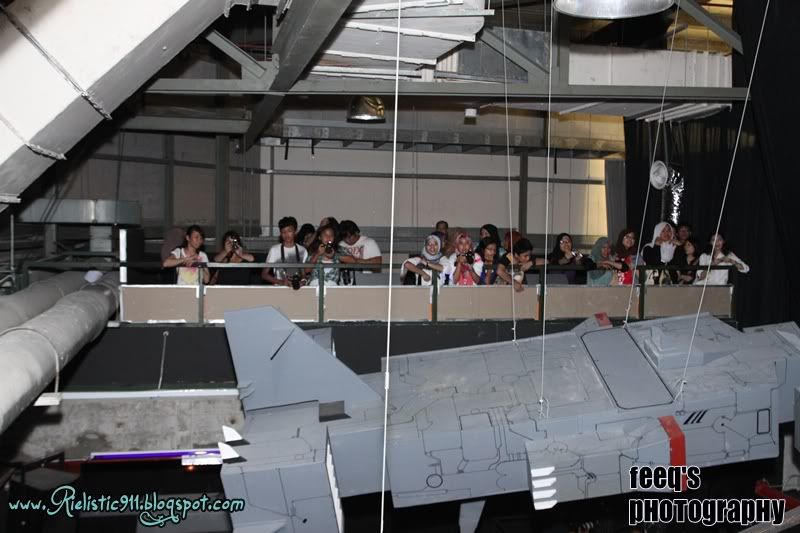 The fans from the 'Viewing Area'.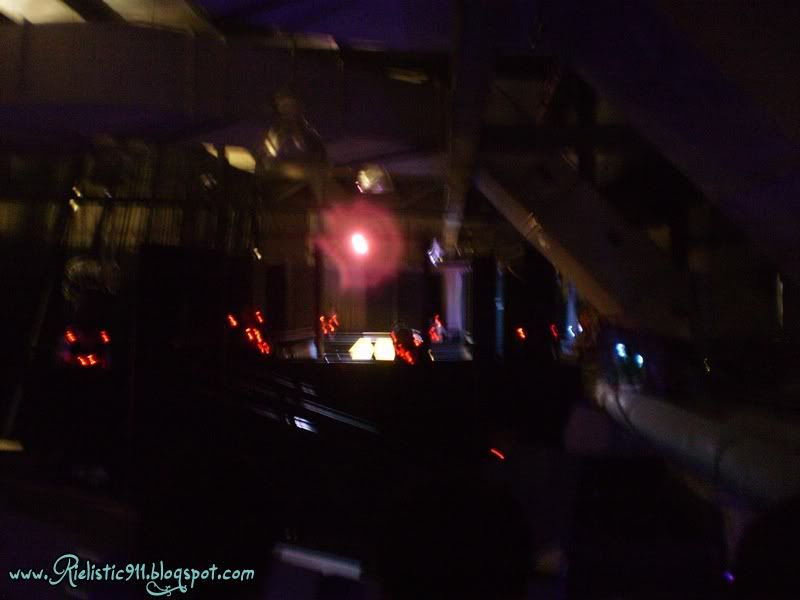 View from the 'Viewing Area'. Those red lights are The Wanted in the dark.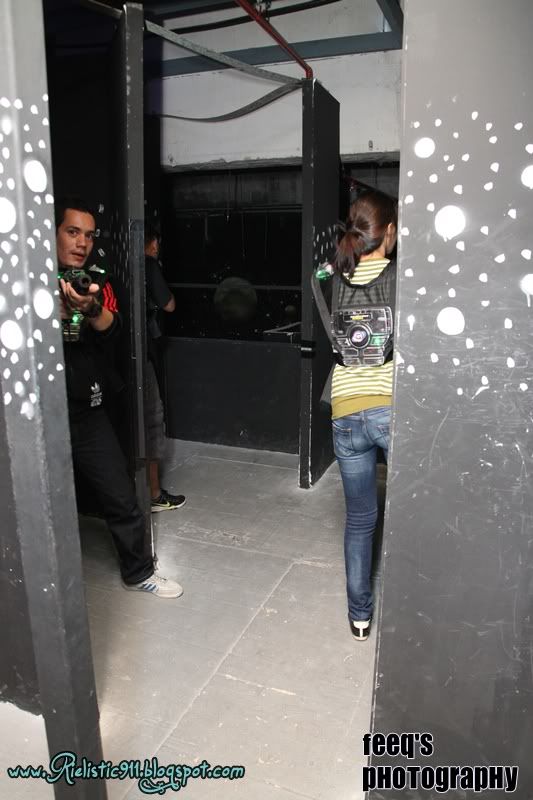 The Wanted team which includes their manager etc was given the advantage to take their places at the 'top level'. They have a pretty good view of us ;)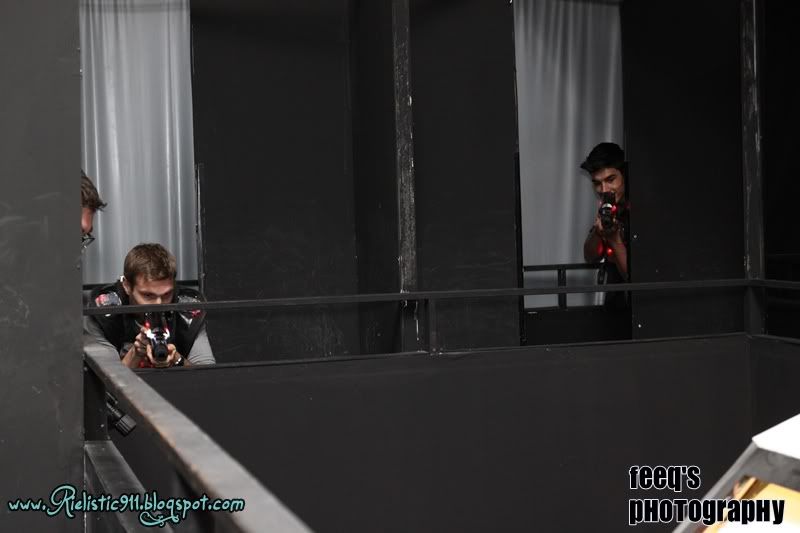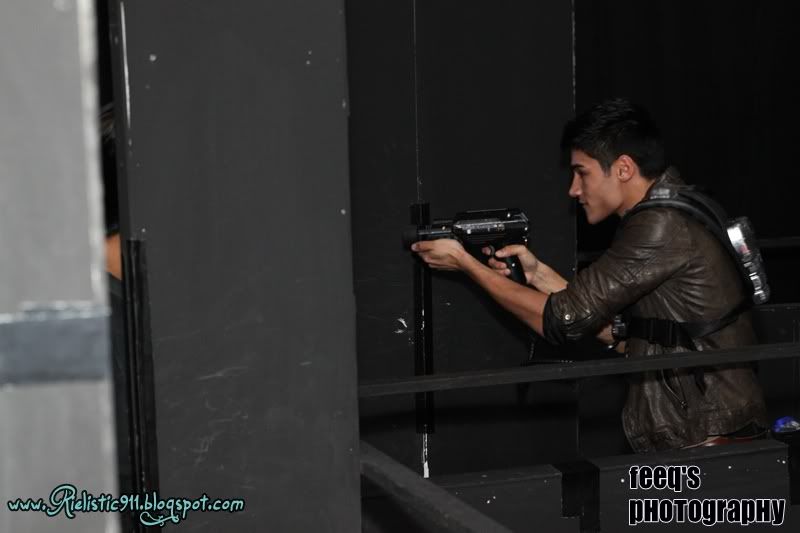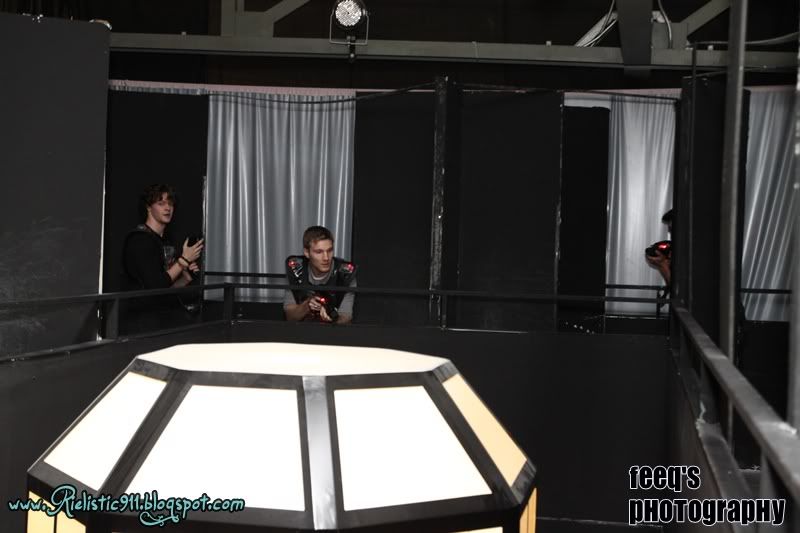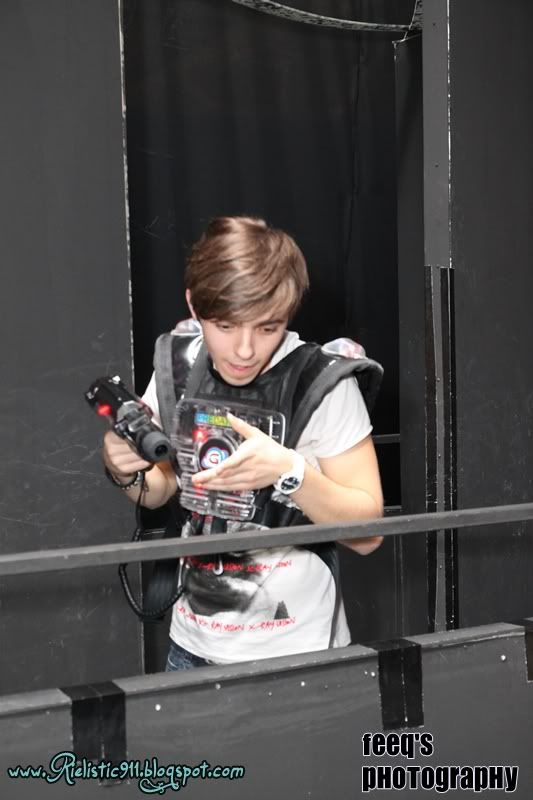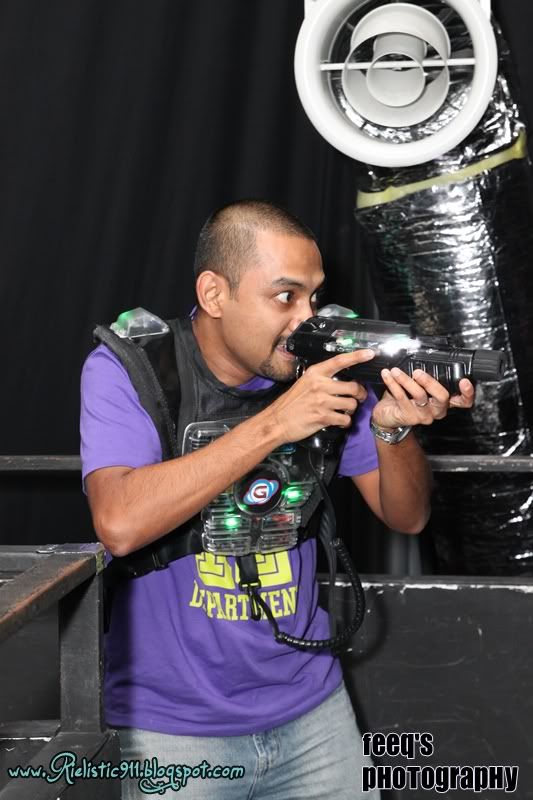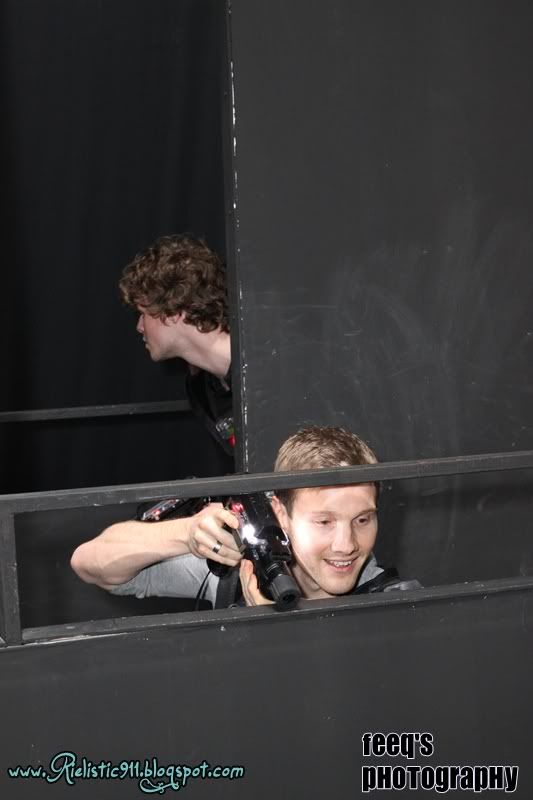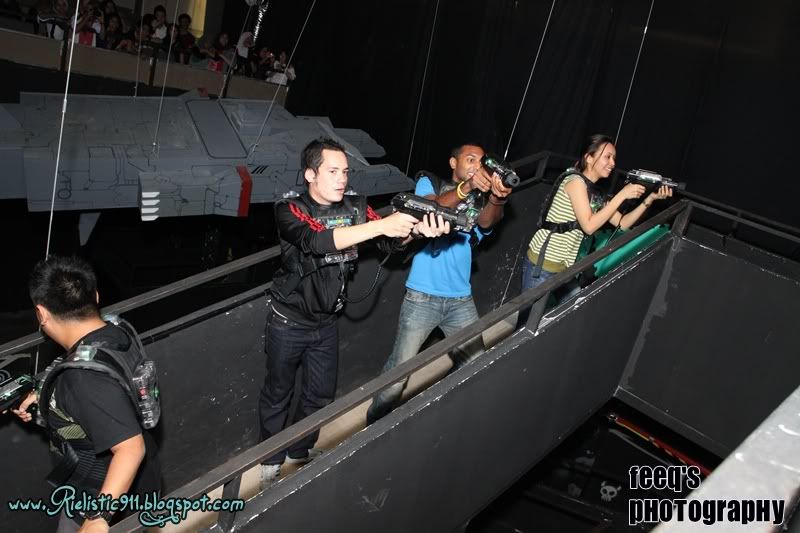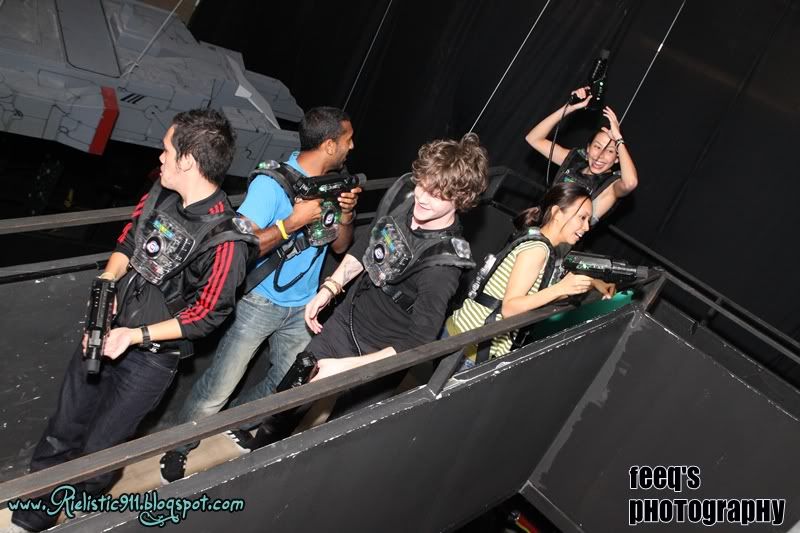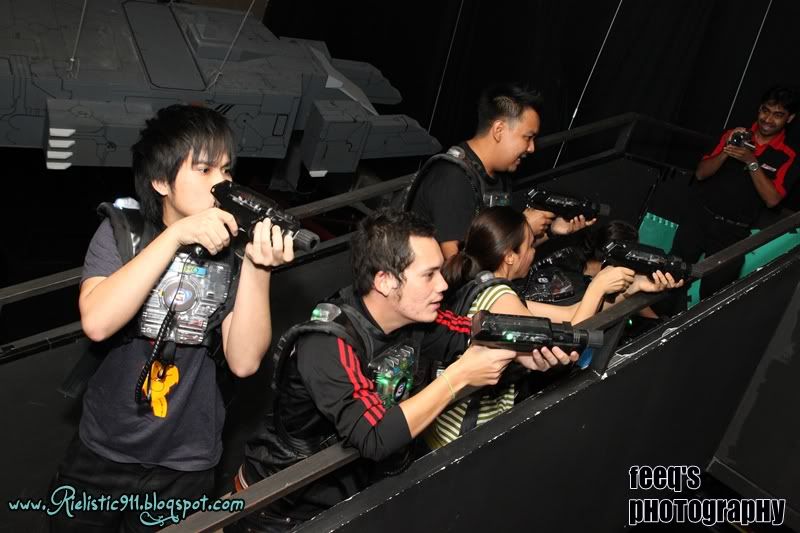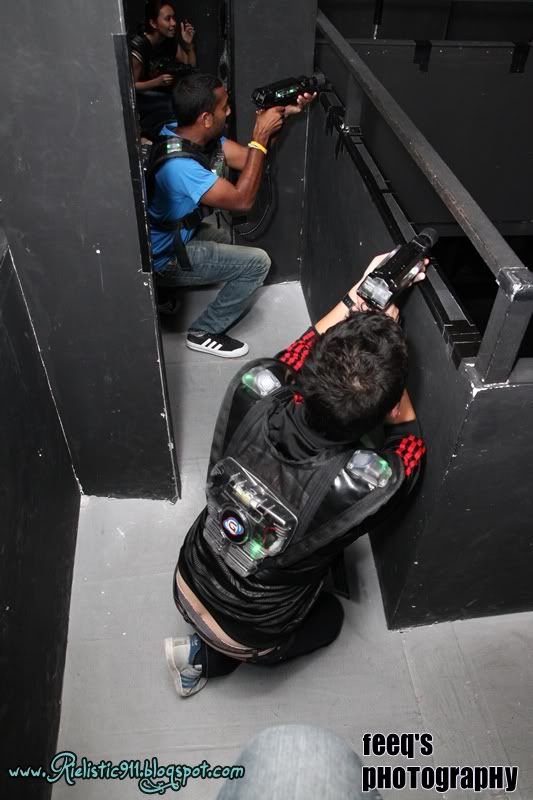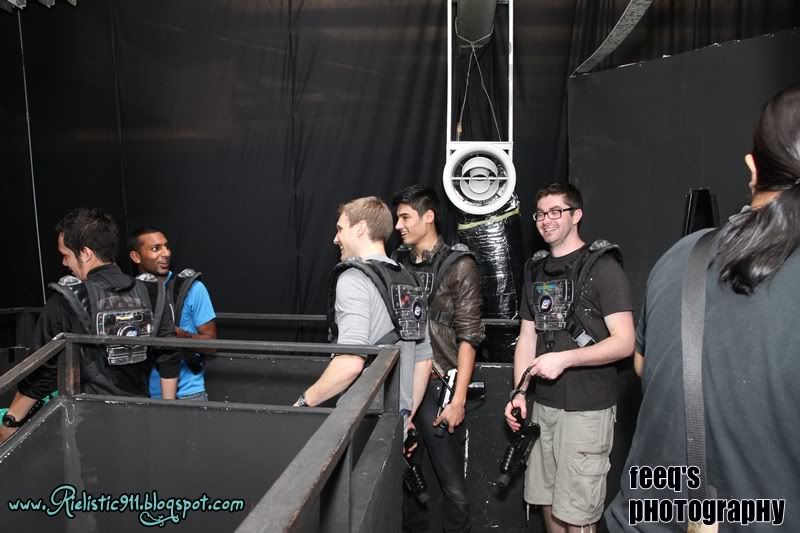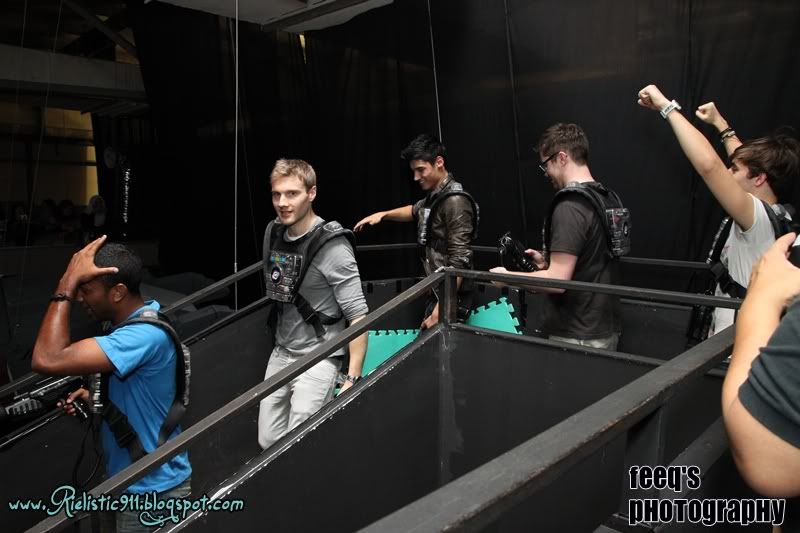 Results time, The Wanted team Won in every match!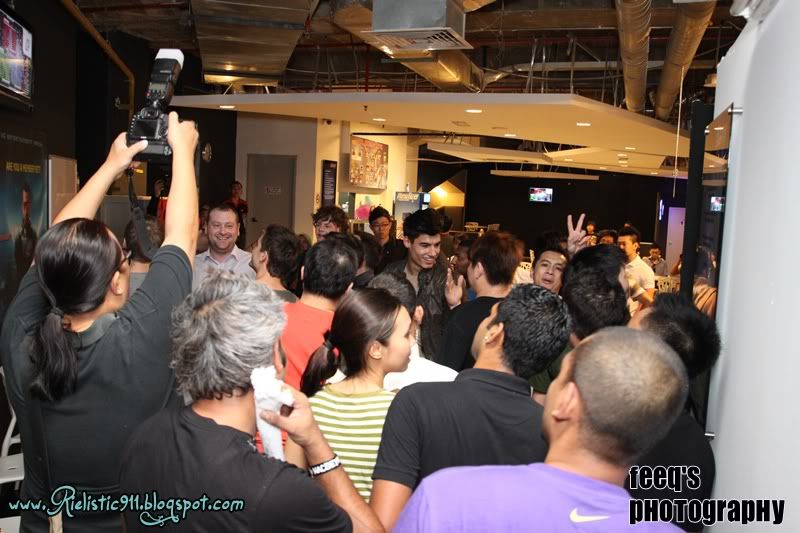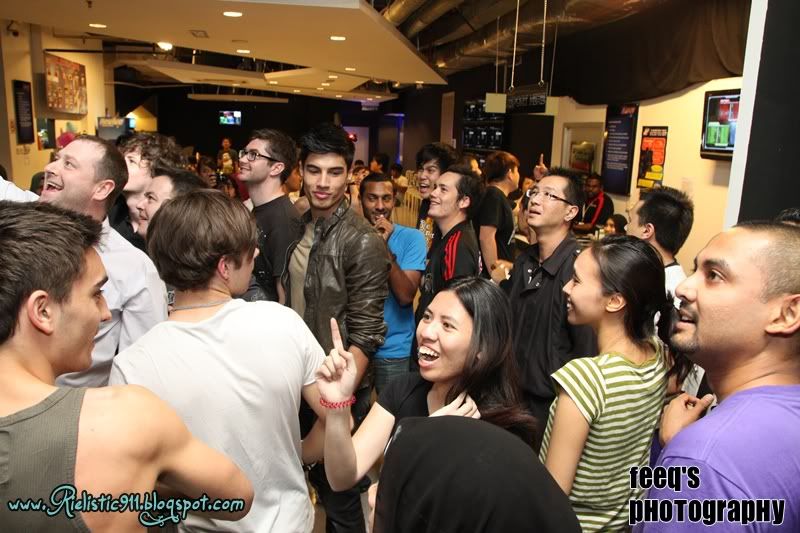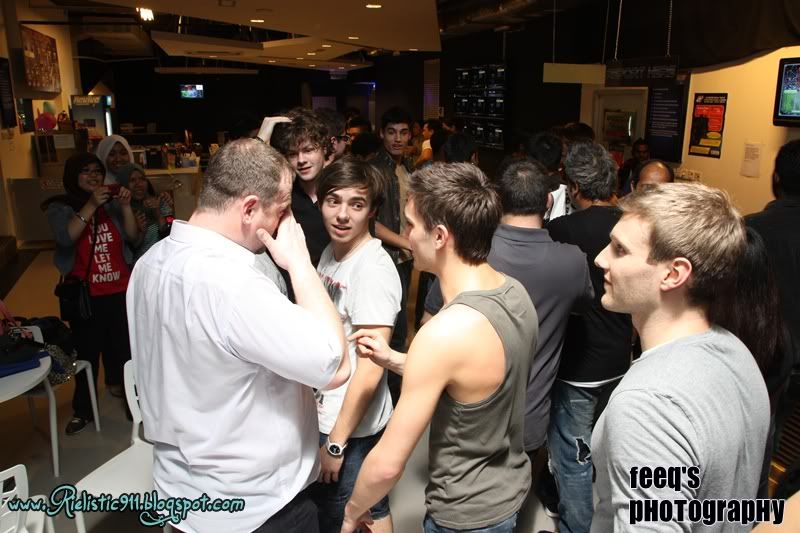 There were 3 Teams;
The Wanted team.
Hitz team + winners from Hitz.
Advertlets team.

The Wanted team will play with Hitz team and then Advertlets team.
3rd and Final Round: The Wanted will play with the Winners of each team (based on high score).

I was the winner of Advertlets team! Ahhhh! Sooo Happy! Heeee!
So the last and final round playing with The Wanted & Hitz team was a privilege!
It was sooo much fun! I had a blast!

After the final round, I got to hug and a kiss from Max & Siva again, they were rushing off to Curve for their showcase at Laundry.


After that, me, jason, feeq, azrin & dila chilled at the private lounge where The Wanted were hanging while the fans were outside waiting. Munched on some food provided.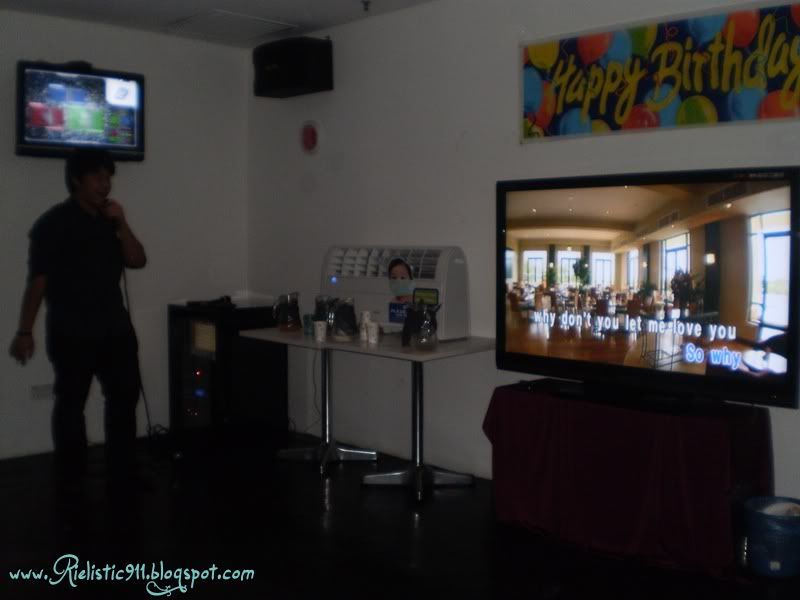 Went our seperate ways, I went home to shower and get ready for their showcase which starts at 6.30PM.
I was so upset I arrived a tad late, I arrived at 7PM, thinking they would be starting late- as usual.

Arriving when they were singing 'Say It On The Radio'. Second song on their list.
They started the showcase with one of my favourite songs though; Lose My Mind.

A total of 6 Songs were sang; 'Lose My Mind' , ' Say It on Radio', 'Heart Vacancy', 'Iris' originally by the Goo Goo Dolls, 'Behind Bars'. [Encore] 'All Time Low' (Best for the Last).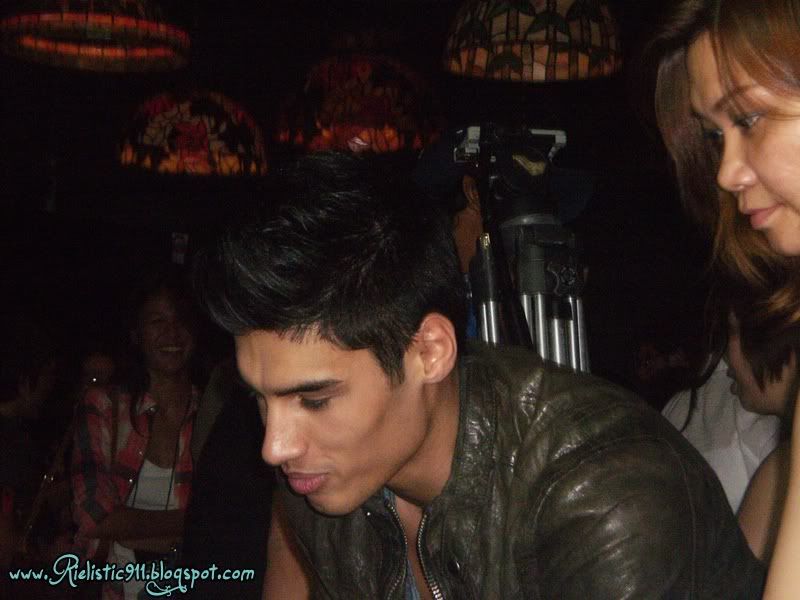 During the showcase, Siva recognise me from the crowd and waved Hi and gave me a Heartshaped-hand! I was hoping to catch Siva's attention by doing a heartshape too!

Jay also recognise me and gave me a big smile and wave during the performance! <3

I was almost at the back of the crowd for coming late. The girls at the front with perfect view got loads of attention- I was jealous :(


My recording of the last line-up song and my favourite song of The Wanted.


Apologies for the poor audio quality.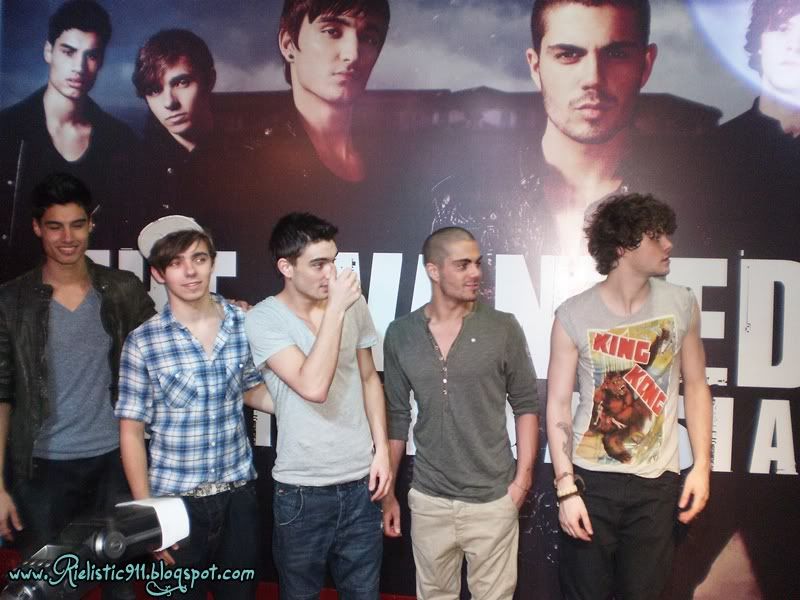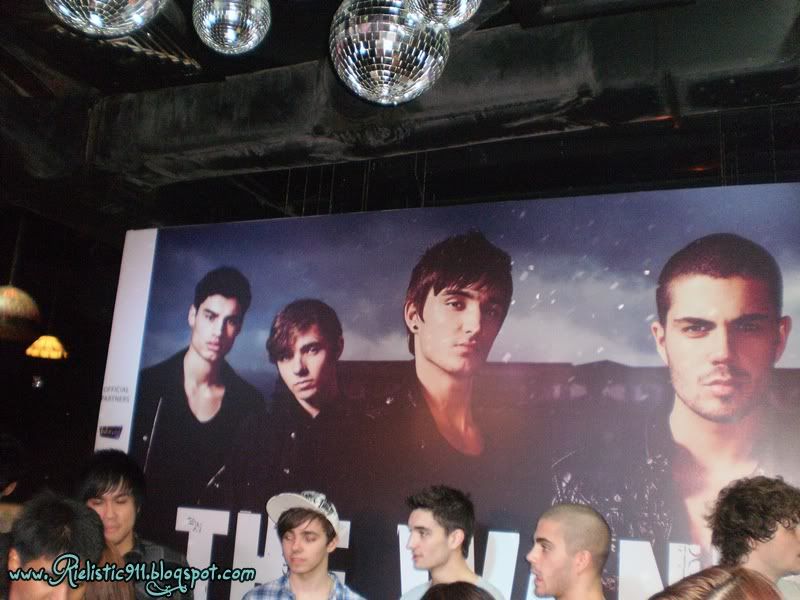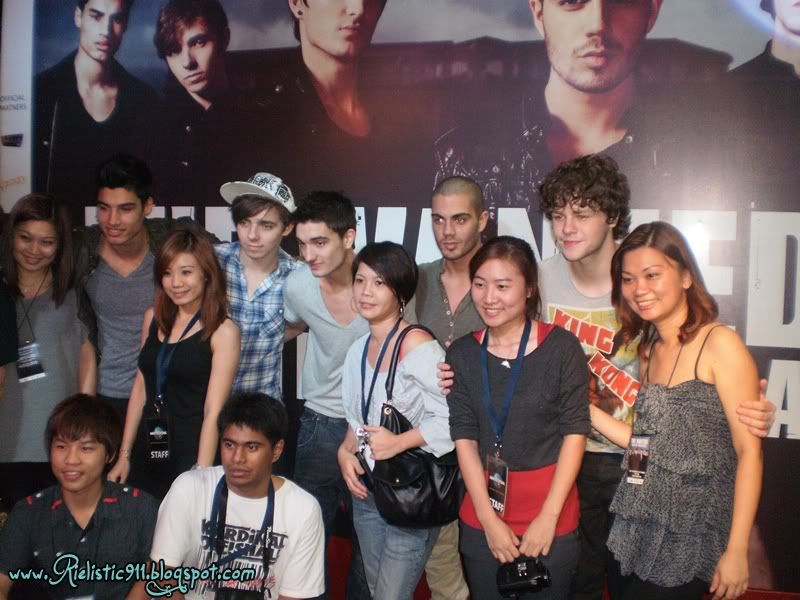 w the Universal Music team that brought them to KL.


I wanted their autograph- bad! But i dint have a marker pen. I saw a girl that has already have her thing autographed. I bought it from her on the spot for RM5.

I manage to get each of their autograph

♥

♥



Upon approaching Jay, He complimented my dress;

Says I look gorgeous in my dress

. *blush* & *melts*.
Siva also asked me if I enjoyed the show. OFCOURSE I DID!
Idk why, but i was pretty nervous when answering him. Hahah! Maybe it was the crowd.

They left shortly after the autograph and photo session.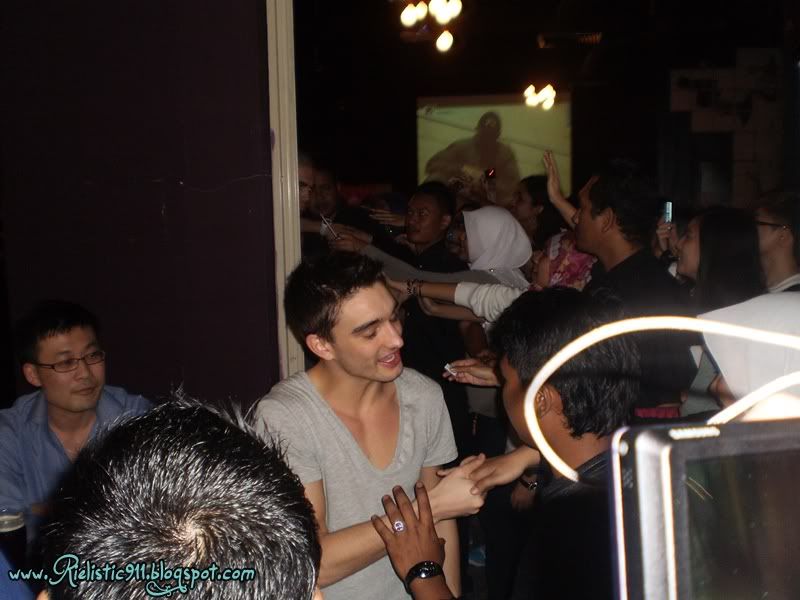 I waited right at the perfect spot to say Goodbye for the last time.
We were able to hold their hands for goodbye. When Siva was passing me, he turned and saw me and hold onto my hand even tighter & longer!

*omaiiigawd* I can still remember the moment! For a moment, It was like my heart

stopped beating

. The world just paused and it was

just hand in hand eye contact

!

♥



Heres the video i took, but sadly when i was in the 'moment', i got so distracted, the camera has its own view. *Grrrr*



Their Farewell was a memorable one!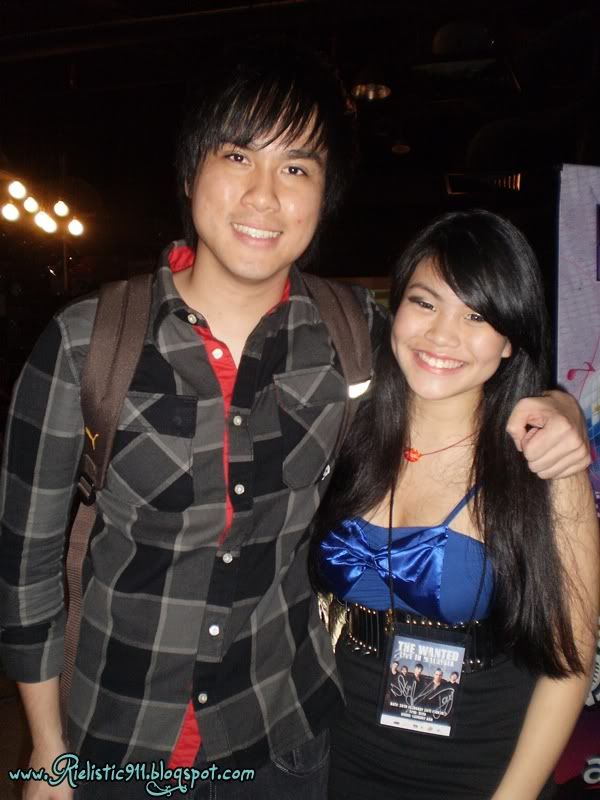 Jinnyboy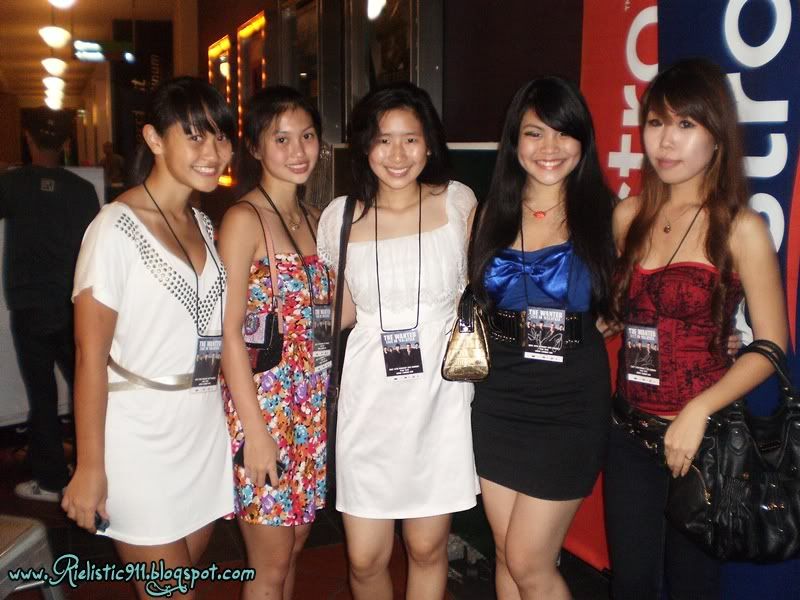 w new Advertlets members. They are crazy bout The Wanted!



w Feeq!



Terence kor kor tried the putting thingie and won himself a tic to the Golf thingie.
You have 3 chances, If you get all 3 into the hole. You'll win a car. Whathe!! But this is also based on Luck.


And guess whose gorgeous face i spotted in the crowd ?






Henry Golding indeed.

He also asked me what was that tag i had on. How funny that The Wanted and Henry is from the same place- London. Heee
Had just a lil convo with him as i dont want to disturb his shopping time as he was with a few friends.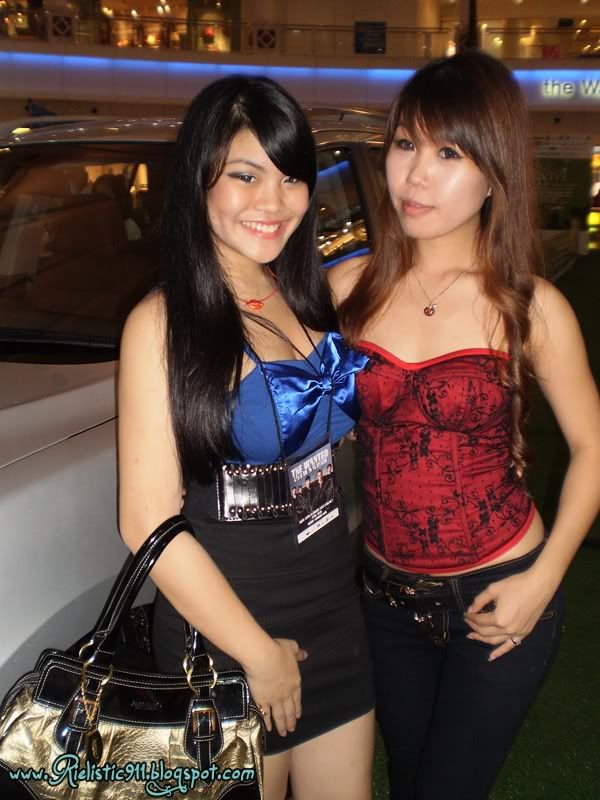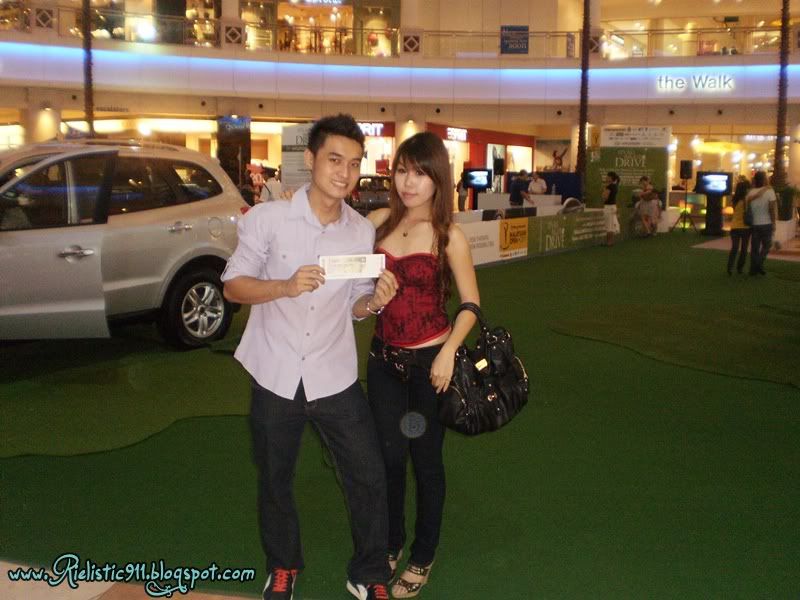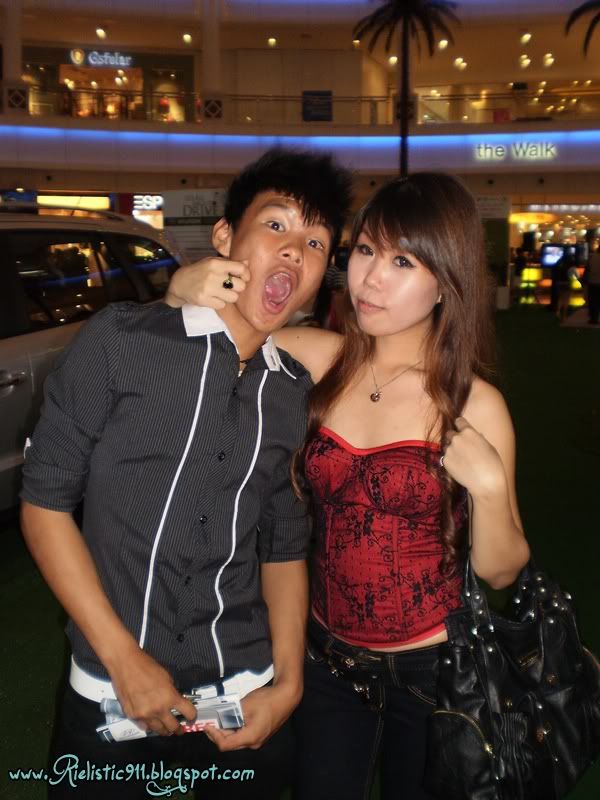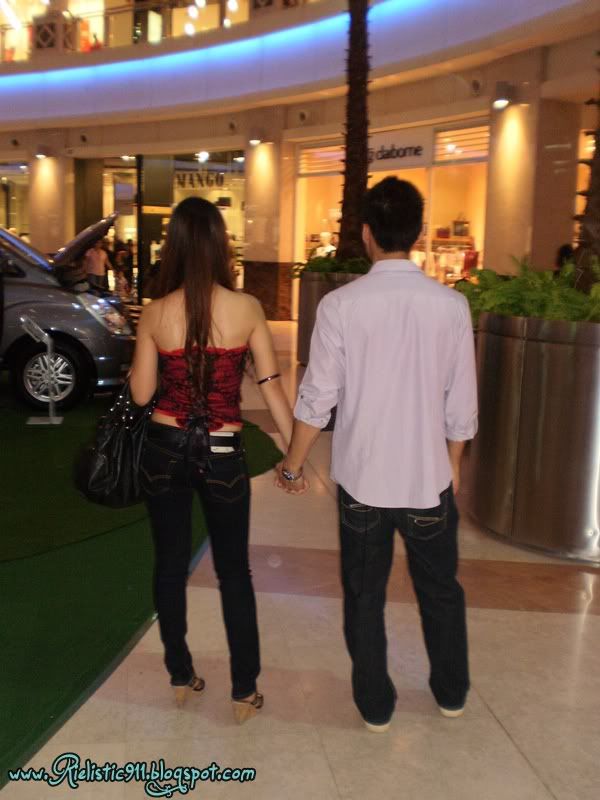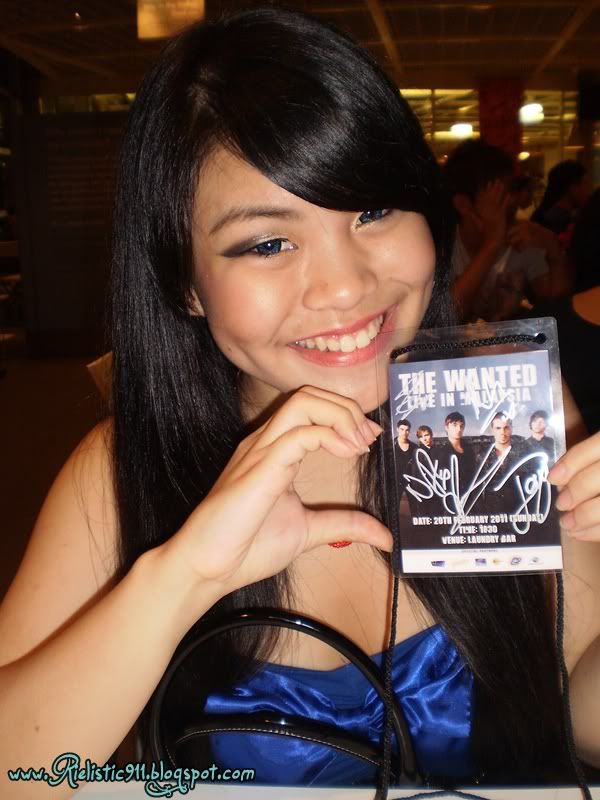 ♥

♥

♥

♥

♥

♥

♥

♥

♥

♥

♥


Siva's , Nathan's , Tom's , Max's & Jay's autograph :)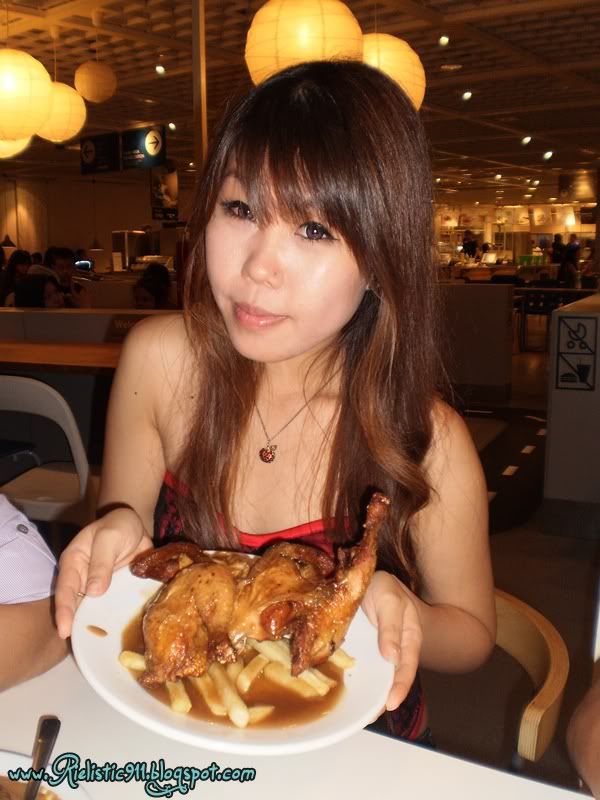 It was such a memorable fun day! Never in a million years i thought i would be playing laser tag with any boyband/artist!

Since 20 Feb, I've been a #TWFanmily.

The Wanted is the First British boyband that i really Like!
Before them, I dint really fancy british accents.
Now, they made british accent

SEXY

!


Weeks later, I saw this on the mail!
Full write up on The Wanted on Malaysia's local newspaper-

The Malay Mail.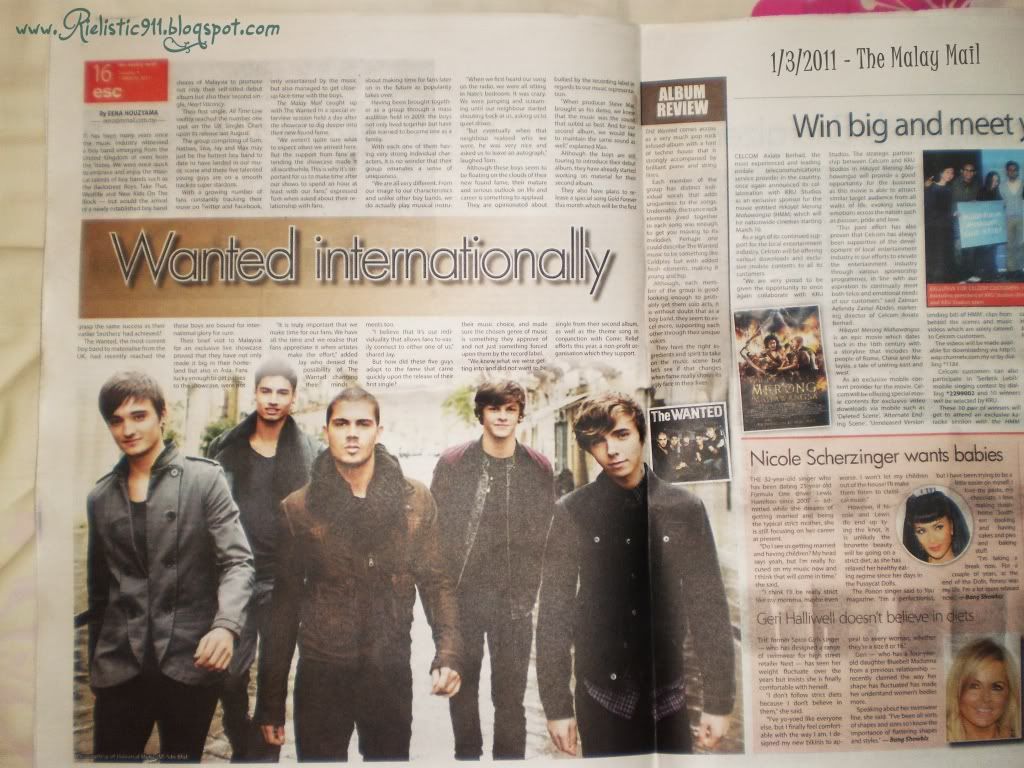 Enjoy! My one and only favourite boyband (

other than kpop

)

♥ ♥ ♥




Since i wanted to show my support as a #TWFanmily I took part in something that The Wanted was in .
Too bad its only hot in the UK.


Stay tuned for the 'support' I decided to do .
Hint;

Red.






p/s; The pictures seen taking with Siva & Henry had my eyes reallly small eh?

That shows how happy I am to get a picture with them. Heee!