As you know im also a
JWalker
, heres a 1 Hour-length Full Video of Jay Park performaning for the White Love Party @ Seoul i would like to share.
Jay is soooo damn fine ♥
I'll take him to a place where its nice and quiet so he can take me down ;)

If only he ripped off his shirt during Jay Park Fan Meet in KL here :/


Heres a picture w Jay

♥

♥

I know its a long video to watch, but its worth the time okayy! :)
I also remember some of the moves that the Art Of Movement crew (AOM) did in that video from the Fan Meet here.
*pssstt* this is my deskie wallpaper.
*melts*
____________________________________________________________________________
[ 14 Jan ]
Friday
Big Thanks to Sony Music. I won and collected these from their office nearby.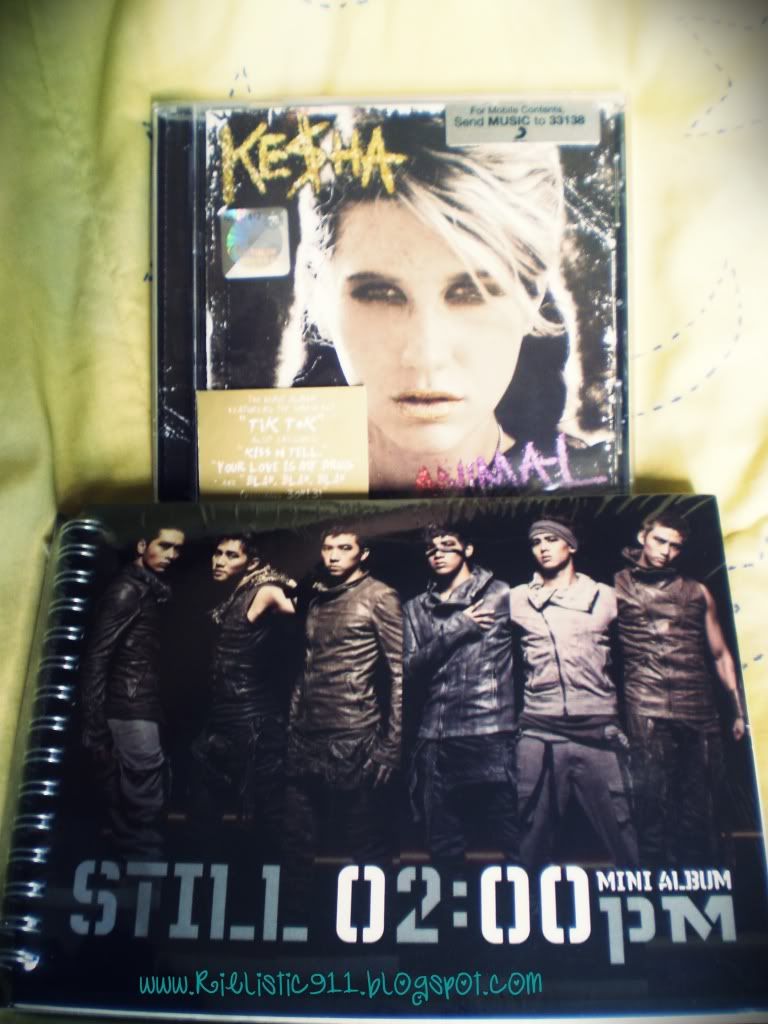 Ke$ha's Animal Album & 2PM's Still 2:00PM Album.

*pssst*
if you guys watch We Got Married- Khuntoria/ Cute Couple.
Victoria was in Nichkhun's ThankYou section.
I saw it on my album! Heeee! he even added "

ㅋㅋㅋ " after the message.


Loved Ke$ha's Animal Album.
Fav songs from Animal; Your Love is My Drug
Tik Tok (overated)
Blah Blah Blah
Hungover
Dancing with Tears in My Eyes
& Animal

Album had a total of 15 songs, including a bonus track.
Worth the pick.



On the other hand, 2PM's Still 2:00PM Album had only 7 Songs.
as its the Mini Album.
Loved the packaging though.
Theres a lil photo booklet in it too. Perfect for getting autographs on it ;)

Everyones' favourite song from the album would be I'll Be Back, am i right? Heee
Heres their Official Music Video. Check it out!

Totally digging their hot dance moves, eh?
Notice they also incoperated some basic Shuffling moves in it?

I remember i used to dig shuffling back in 2007/2008 when it was the '

hot thing

' . Hahah!

Btw, if you dint know.
Nichkhun Buck Horvejkul is my love.

But much love to the other 2PM members too, Taecyeon, Changsung, Junho, Junsu Wooyoung!
♥
♥
♥
♥



I seriously cant wait for them to come to Malaysia! Yes, im also a "Hottest".
That ill go insaneeee over ! All the boys i likeee in a group!
My love develope for 2PM when i started watching a korean reality tvshow called "Hot Blood". If you've never heard of it, its about all of them starting together as a group! First time meeting the rest of the members chosen by JYP Entertainment.
Through their tough training as a team it was great to watch, it was a motivation for me too! It even brought me to tears :') No doubt, it would make me laugh too! They're real jokers i tell you.

There you go, It all started from "Hot Blood"! Amazing tvshow- training were pretty heartless and intense!! Eg; jogging shirtless at 5AM in the morning in KOREA?! Cyeahhh man!
After they have made it into a group- 2PM. They had a reality tvshow called 'Wild Bunny' which episode ended pretty short because of Jay's elimination from the group :'( They would pull pranks on each other the entire show. It was hillarious watching them! I would even get tummy aches (from hard laughter) here and there. It just showed how close they are as a group and supported one another like brothers from another mother.




P/S; Do note that i dont have love for every other K-Pop groups too. Im not a k-pop fan craze lover.