[from left] Clumsy Smurf, Grouchy Smurf, Papa Smurf, Smurfette, Gutsy Smurf, Brainy Smurf
Just got back from GSC's TimeSq for the preview screening of
The Smurfs
!
Wheeeee! It was so
smurfy
!
Enjoyed myself like a little kid in the cinema. There was humour throughout the movie- everyone had a great laugh. This is also a very family oriented movie- young kids to senior adults would enjoy it too! It also had a great value in it-
never underestimate someone or not trust/believe
in them when they're
your loved ones
.
On the other hand, when youre in the working
world
, you should do things that makes you who you are, not just because it pleases the person up there- your boss.
(Im not saying not to please your boss) But just remember not to
lose yourself in your work
and do things that doesnt make you feel happy doing your job.
A person at any age would understand the story and could probably relate to it.

My throat felt a little lumpy at parts but I was too in the jolly mood to tear. You'll find a few touchy parts there. The main smurfs, which are Papa Smurf, Clumsy Smurf, Grouchy Smurf, Smurfette, Gutsy Smurf, Brainy Smurf all had their own differences but they worked together well as a family.
I honestly
L O V E
every one of the smurf. Each smurf had their fair amount of spotlight. Thats what i loved most about it.
Its definitely a must smurf! Hurry and smurf them in the cinemas when its official release on the 1st of September!


Check out the trailer if you havent.

Oh yeah! Dont be so quick to leave the cinema hall. Be sure to be still in your seats even when the Director's name pops up at the end. Stay until the Cast List- thats where it Ends :)
If you dint know, Kary Perry was the voice of Smurfette ;)
Doesnt she look smurfalicious?
She also sneakily smurfed aloud
"I Kissed a Smurf and I liked It"
in the movie.
Katy tweeted this picture of her nails that she had done (i suppose for the premier). So adorable!
Sexy Sofia Vergara from tvshow Modern Family played a part in this as the mean workaholic boss.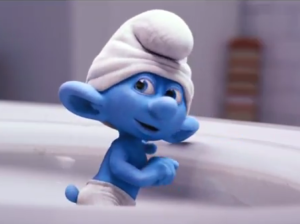 Clumsy, oh, wasnt he a real clumsy one. Such a cutie though!
Azrael the cat would've won the Best Expression Award if they had one. Even smarter than his master- Gargamel.
The Smurf's cast and voices.

Btw, how ironic that Barney Stinson Neil Patrick Harris's character name was also Patrick.
Also note that the little blue creatures have only 4 fingers!

I had a smurfy time with bro too! I think after this, ill use smurf in my vocab. Heheh!
Oh yeah, the movie was Smurftastic!
Smurf you next time!