Yesterday night, I went for a special screening of Abduction at GSC 1 Utama. So excited as I've been waiting to watch this, that i've been planning for months. This will most probably be the last movie i catch in the cinemas before my exam. And the Next to catch would be Twilight Saga: Breaking Dawn? ;)
Here I've posted a non official trailer. WHY? cause the Official trailer basically tells you the ENTIRE Movie in less than 3mins. I hate it when trailer are like that.
Check out Taylor Lautner's Interview with MTV.
I watched this few months back and these was what made me want to watch the movie as soon as it came out. Actually, i watch the interviewS on
MTV News
. But it seems like its "not available in our region". Weird cause i could watch it a few months back. Hrmmm~
Anyways, i found this on youtube to share with you guys :)
The very athletic-body heartthrob is back in a different genre compared to his well-known role as Jacob in Twilight. Matt Damon & Tom Cruise can move over (and say goodbye to their careers) cause Taylor at only at the age of 19 is doing very well in this action role.

I felt like the movie was a little short even though it was slightly over the usual, 1hr30 mins. Maybe it was because Im a fan of the Twilight Saga and this script is a little short for him. If the movie could have extended 30mins more to make the story filled with more details. Therefore, I felt the movie was a little rushed and everything happened so quickly.
On the other hand, i was jealous of his co-star Lily Collins mainly because theres a couple of
making out
scenes. BTW, i did notice a short Cut in the making out scenes.
(I think they cut the part when it was, the clothes ripping, body touching, intense making out scene)
. *Pfft* You know Malaysian's cinema.

In conclusion, the storyline dint make it any more different compared to an Action movie. If youre a fan of action (and secretly probably Taylor Lautner too) you'll most probably like it. Its not only a movie for girls to go gaga over for Taylor but guys can also see lithe fighting skills in the newborn action star and also guys would probably wanna look up to Taylor for his perfect buffed body.
Why do you see this much used poster almost everywhere? Its cause
he did this stunt himself!
Most of the dangerous stunt had a stunt master behind it but Taylor insisted on doing this action stunt himself as it was a possible one. He got little bruises here and there doing the scene a few times to get the perfect take but it dint stop him. It was definitely a proud achievement for him.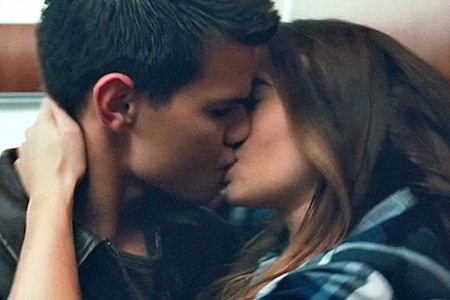 The intense making out scene that the cinema slight cut to be fit for PG13 rating.
If you notice, from the trailer you can see that he is ripping his shirt off. That Did Not happened in the movie ;)
Hot boxing turned fighting scene between Nathan (Taylor) & his Dad with a professional guiding them.
So this is how they film a running scene.
Sweet looking girl, Lily Collins. Alot of girls must've been very envious of her role being so close to Taylor. One thing i couldnt help but to keep staring was her EYEBROWS! Thick ones indeed.
And here it is, Taylor Lautner topless duringt he making of the movie! I know he couldnt help but being topless mostly thruout the Twilight Saga. Theres are a few scenes in Abduction where the director took advantage of Taylor's body and had him shirtless ;)
Lastly, here is Taylor Lautner in one of his first few movie films in the movie called Shark Boy & Lava Girl.
So proud he has come such a long way :)
I remember google-ing him after watching this movie even when i was a kid. Hahha!
Watch out, cause Taylor Lautner is the hot new hollywood star that be making his way to the banks!